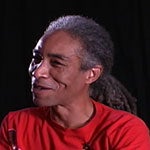 Harold McMillan is noted throughout Texas for his social advocacy and his championing of musicians. His contributions as founder/director of DiverseArts Production Group, an Austin-based nonprofit producer of multidisciplinary art and cultural projects and programs, have made him a one-of-a-kind entrepreneur who has been a leading force in Austin's music community for over 20 years. "I'm a cultural worker . . . and so the stuff that I do is tied to some notions of fairness and telling the truth."
Today, the jazz and R&B performer is primarily known for his efforts to provide access and exposure to artistic traditions derived from African-American culture, most notably the blues. "There was a blues renaissance that started to happen in Austin in the early 1970's, especially with a bunch of white guys who got into it shortly thereafter," recalls McMillan, noting the broad-based ethnic contribution of musicians such as Paul Ray and W.C. Clark in shaping the music scene.
A sample of McMillan's production credits include: founder/executive producer of the Clarksville Jazz and Arts Festival, Austin Jazz and Arts Festival, Austin Blues Family Tree Project, Clarksville Jazz Sessions, and publisher of Austin Downtown Arts Magazine.
McMillan has exerted great effort to build a bridge to the past and examine how artistic expressions outside the classical European arena reflect on the present. His painstaking work as a documentarian/cultural historian includes a series of recordings which have preserved the voice and images of Texas music pioneers as they trace the development of the state's musical heritage. "What was cool was to hear the older guys talk about times all the way back to the mid 40's, when central Austin was hopping during World War II," McMillan said.
One of McMillan's focal points is to unite people from all walks of life through the common experience of art. As he reminds, during the late 60's and 70's, Austin was a sociological marvel where "hippies and black fold hung out. It was okay." He continues to promote this philosophy in his work as he evaluates our social and emotional ties.
mcmillan from Madeline Maxwell on Vimeo.
"There was a blues renaissance that started to happen in Austin in the early 70s…"