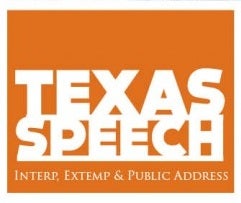 ---
Updated 3/24/2020:
What you should know:
We continue to follow the news and CDC guidelines in reference to the emerging COVID-19 Coronavirus outbreak. For guidance on University of Texas procedures related to the disease, please go to:
https://www.utexas.edu/coronavirus
We are in the process of developing a digital/distance learning version for the 2020 UTNIF, and will continue to update the information on this page as it becomes available. Should the camp be cancelled or should the distance learning model or schedule not work for previously enrolled families, application fees will be refunded, and all students will be given the option for either a refund of the application fee or credit of that fee to revised programming. Please also note that program costs will be adjusted significantly downward. 
Since the UTNIF speech programs typically reach maximum capacity and we must turn students away, we make these adjustments this year so that our students and their families will have no concerns about whether or not to proceed with enrollments. We realize that planning is important, both for visiting students and in order to arrange for the residence and staffing details necessary to the camp.
Thank you for your interest in the UTNIF!
---
---
Why do so many students choose UTNIF for the summer forensic education programs? Check out our staff listings to see why!
Projected Dates (subject to final dormitory contracts):
Main Session: June 24-July 8, 2020
Extended Session: June 24-July 12, 2020
Check out our program information!
Have questions?
Information and FAQ's for parents: UTNIF Admin Information Page
Or contact our Program Coordinator: 
Eric Lanning, 512-471-5518
Eric.Lanning@austin.utexas.edu
---
The UT National Institute in Forensics was established in 1994, though the University of Texas forensic programs have been operating summer programs and short courses for high school students since the University Interscholastic League was formed out of the Debating League of Texas High Schools in 1913.
One of the oldest student programs at the University of Texas, the forensic program was organized on October 5, 1883 as the Athenaeum Literary Society, which established as its ultimate goal the "training and developing of its members in forensics" through "the awakening of a vital interest in cultural and literary pursuits and the discussion and explanation of current problems." By 1909, the program expanded to pursue national intercollegiate contests by joining the Delta Sigma Rho National Forensic Honorary Society. Archival records show a continuing involvement in collegiate and high school competitions since the 1920's.
We are immensely proud of our faculty and student alumni of the UTNIF!