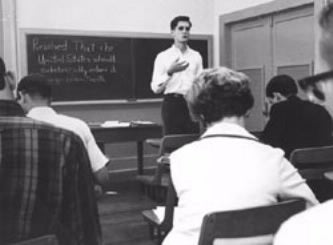 The University of Texas debate program is a highly competitive program geared towards competing at the National Debate Tournament (NDT) and Cross-Examination Debate Association (CEDA) national tournaments.
It is open to any undergraduate enrolled at the University. If you are interested in joining the UT debate team, please contact Brendon Bankey: brendon.bankey@austin.utexas.edu.
We compete at both regional and national debate tournaments, allowing students from a variety of backgrounds and skill levels to compete.
We offer scholarships and out-of-state tuition waivers to our most qualified and nationally-competitive debaters, as well as graduate student stipends for assistant coaches through the Department of Communication Studies. The program is funded through several sources, including the College of Communication, Student Service Fees, endowments, and self-funding through the UT National Institute in Forensics and the Longhorn Classic high school tournament.
Support Texas Debate
If you have benefited from the program or support our activities, our students can use your help.
George Ann and Amon G. Carter Jr. Endowment
George Nokes Endowed Debate Scholarship Fund