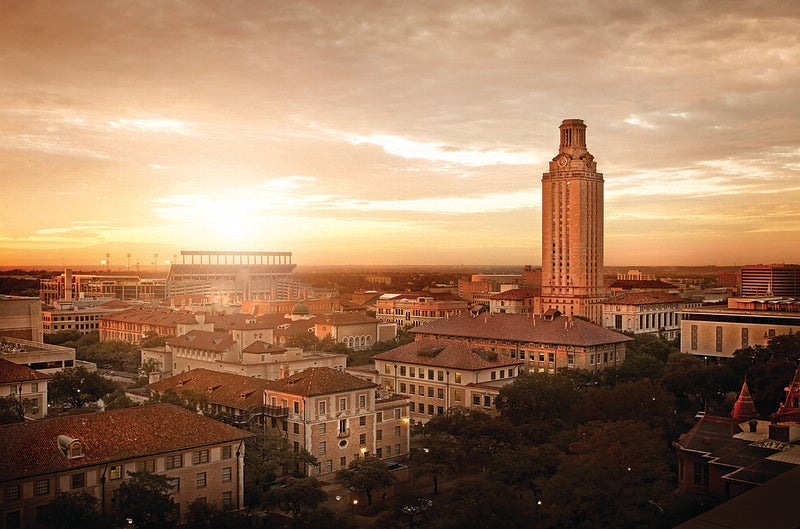 September 23-25, 2022
Austin, TX
OCMC 2022
Join us for the annual Organizational Communication Mini-Conference, taking place at University of Texas at Austin September 23-25.
The conference will include research presentations by doctoral students on the job market, poster presentations highlighting some of the great scholarship masters and doctoral students are currently doing, faculty-led preconference options, and fun social activities.
Submissions & Registration
An opportunity for master's and non-dissertating doctoral students to showcase their research and obtain scholarly feedback from faculty and fellow graduate students in an informal setting. To submit for a poster presentation, please prepare an abstract summarizing your work.
Submissions are due July 1st. Decisions will go out on July 15th.
An opportunity for advanced/dissertating doctoral students to present their developed research. Featured speakers will have 15 minutes to present followed by 10 minutes of Q&A. This is a great opportunity to practice a dissertation defense and prepare for job talks! To submit for a featured speaker presentation, please prepare an extended abstract summarizing your work.
Submissions are due July 1st. Decisions will go out on July 15th.
Register today! All are welcome to attend, regardless of whether you will be presenting. Admission is free to everyone, and meals will be provided.
The deadline to register for the conference is August 1st.
We will be offering two preconferences on Friday, September 23rd, starting at 2:00pm, followed by an opening reception.
---
Employing metaphor, narrative, artistic, and creative writing methods to bring life to findings and findings to life:
An interactive workshop
In this workshop, Dr. Sarah J. Tracy will bring her qualitative organizational communication methodological expertise to lead participants through an interactive process of using various creative techniques that bring findings to life and life to findings. Participants will begin by co-developing drawings and talking through stories related to the organizational prompt of "what does academia feel like?". They will then engage in narrative and metaphorical analysis techniques that get to the essence of their experiences. The workshop will close with creative writing and representation techniques that render their experiences in vivid written and visual forms. The interactive process is designed to leave participants with a fundamental and embodied understanding of the "genuine and unavoidable connection between how an experience is experienced and how that experience is rendered in prose" (Goodall, 1991) and how "qualitative researchers find meaning by writing the meaning by writing the meaning into being" (Tracy, 2020, p. 322). What's more, they will leave with a renewed interpretation of what academic does (or could) mean for themselves--and how this related to their critical subjectivity and positionality as a researcher and multi-faceted human being.
Facilitator Bio: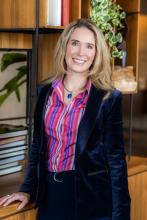 Dr. Sarah J. Tracy (Ph.D., University of Colorado, 2000) is professor of organizational communication and qualitative methodology and the School Director of The Hugh Downs School of Human Communication at Arizona State University. She is a Distinguished Scholar of The National Communication Association, Distinguished Teacher of The Western States Communication Association, and Co-Founder of The Transformation Project, a consortium of faculty, students, and community members who seek to discover and promote creative change processes that encourage healthy communication patterns, collaborative group behavior, and equitable forms of social organization. 
Tracy's scholarly work examines emotion, communication, and identity in the workplace with a focus on emotional labor, compassion, bullying, and organizational flourishing. She is an interdisciplinary leader in qualitative research methods—including participant observation, interviewing, focus groups, organizational training/intervention, document analysis and discourse analysis—and she hosts the Youtube channel Get Your Qual On. Her award-winning research has resulted in two books including Qualitative Research Methods: Collecting Evidence, Crafting Analysis, Communicating Impact, by Wiley and now in its second edition. This book elucidates a contextual approach for problem-based iterative qualitative methodology, serving as a primary scholarly source on qualitative design and analysis, a practitioner's resource for assessment, and a pedagogical resource for short courses, workshops, and graduate and undergraduate courses. 
Tracy has published more than 100 scholarly monographs appearing in outlets such as Management Communication Quarterly, Communication Monographs, Communication Theory, Qualitative Inquiry, Health Communication, Journal of Management Studies, Human Communication Research, and Journal of Applied Communication Research. This research has been cited ~19,000 times. 
Tracy has delivered over 75 keynotes and workshops worldwide for a variety of universities and organizations including Honeywell, Metropolitan Association of Business Executives, and City of Phoenix. Her work inspires communication that builds resilience in the face of organizational disruption and stress. Furthermore, Sarah regularly serves as a media resource—on topics such as workplace bullying, toxic positivity, and work-life balance—contributing to outlets such as National Public Radio, The Today Show, The Phoenix Business Journal, and The Arizona Republic.
---
(in)Visibility Management
Visibility has emerged as a central topic in the field of organizational communication. We are excited to host "(in)Visibility Management," a preconference focused on the intersection of organizational communication and issues of visibility in various contexts especially as they pertain to complexities in technology use, organizational power, and hidden organizing.
Potential themes include:
- Re-thinking (in)visibility management in the age of contemporary technologies
- Anonymity and surveillance
- Computer-mediated behavior, knowledge preferences, and communication network visibility
Facilitator Bios: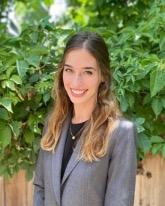 Dr. Camille Endacott's research focuses on how people construct their identities at work, especially with and around emerging technologies, and with what consequences for organizing. She is currently working on research related to the development and use of artificially intelligent technologies in relation to identity construction as well, processes of onboarding and socialization in remote work, and identification dynamics in network brokerage. She primarily uses qualitative and field-based research methods.
Dr. Endacott has published her research in outlets like Communication Research, Management Communication Quarterly, and Communication Studies. Her work has received recognition from the International Communication Association, the National Communication Association, and the Western States Communication Association.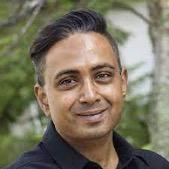 Dr. Shiv Ganesh (PhD, Purdue University, 2000), joined Moody College in Jan. 2019 as a professor in the Department of Communication Studies. Ganesh studies communication and collective organizing in the context of globalization and digital technologies. His work spans critical-institutional and poststructural approaches to communication, and is currently comprised of two strands; studies of technological transformations in collective action; and studies of dialogue, conflict and social change. His research is largely qualitative but has incorporated quantitative elements, and he has done fieldwork in a number of countries, including India, Aoteaora New Zealand, the United States, and Sweden. Current projects include a study of advocacy and voice amongst indigenous people displaced by the creation of environmental reserves in India, as well as a large-scale survey of digital interaction and engagement dynamics amongst global networks of activists.
His research has appeared in a number of journals including Communication Monographs, Communication Theory, Human Relations, International Journal of Communication, Journal of Applied Communication Research, Management Communication Quarterly, Media, Culture & Society, and Organization Studies. Ganesh is a former editor-in-chief of the National Communication Association's Journal of International and Intercultural Communication, and is on the editorial board of several other journals, including Communication Theory, Information, Communication & Society, Journal of Communication, Journal of Applied Communication Research, Management Communication Quarterly, Organization, and Women's Studies in Communication. His research has won several awards from both the International Communication Association and the National Communication Association. Ganesh comes to Moody College from Massey University in New Zealand, where he served as a professor of communication and head of the School of Communication, journalism and marketing.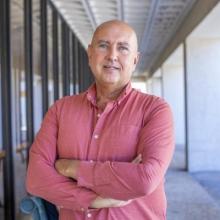 Dr. Craig R. Scott is the John T. Jones, Jr. Centennial Professor and Chair of the Department of Communication Studies at The University of Texas at Austin. He is also a Senior Faculty Research Associate with the Center for Media Engagement in the Moody College of Communication. He returned to UT Austin (where he worked from 1995-2006) after 14 years at Rutgers University, where he served as department chair and Ph.D. program director. Scott's research and teaching are primarily focused on organizational communication, where he examines issues of anonymity and identity/identification in various organizational settings. His current interests center around "hidden organizations," which are found when an organization and/or its members conceal key aspects of their identity from various audiences.
His 2013 book titled Anonymous Agencies, Backstreet Businesses, and Covert Collectives: Rethinking Organizations in the 21st Century has won several awards. He was also a guest editor of a special issue of Management Communication Quarterly on Hidden Organizations (published in 2015). Scott is the 2021 recipient of the prestigious Jablin Award for Outstanding Contributions to Organizational Communication. He is co-editor of the International Encyclopedia of Organizational Communication and serves on editorial boards for multiple journals in Communication. In addition to a course on the Dark Side of Organizations, Scott teaches undergraduate and graduate courses on Organizational Communication and Work & Technology. Scott received his Ph.D. in Communication from Arizona State University in 1994, has an MA from San Diego State, and received undergraduate degrees from Regis U. in Denver. When he's not in his academic role, he can be found cheering for his Colorado/Denver sports teams; playing basketball, sand volleyball, or bar trivia; or spending time with his wonderful wife Laurie (an academic at UT San Antonio) and his amazing college-aged kids Parker and Mikyla.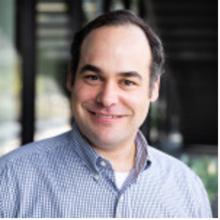 Dr. Jeffrey W. Treem (Ph.D., Northwestern University) studies the relationship between technology use and social perceptions of expertise, primarily in organizational contexts. This research explores how communication technologies facilitate recurrent, interactive practices that affect attributions of knowledge individuals make regarding coworkers. Currently, Dr. Treem is pursuing two lines of research: the study of communication and expertise in knowledge-intensive and service-oriented work contexts, and investigation of issues surrounding the introduction of social media technologies into organizations. This work employs a variety of qualitative and quantitative analytical approaches including ethnographic methods and social network analysis. 
Dr. Treem's work appears in publications such as Communication Monographs, Journal of Applied Communication Research, and Communication Yearbook. His teaching focuses on considering the ways that social media technologies may be shifting relationships between organizations and various stakeholders. Classes encourage students to move beyond commonplace assumptions about communication technologies and use existing theories to interpret ongoing changes in the contemporary communication environment.
DoubleTree by Hilton Austin
We have a courtesy hotel block reserved at the Doubletree by Hilton Hotel Austin. This hotel is less than 2 miles from the Moody College of Communication and is offering a discounted rate if you book in our reserved block.
Making Arrangements
As you plan your travel, preconference attendees should try to arrive at the Austin airport by 1 p.m. Friday, September 23rd.
Preconferences will begin at 2 p.m., followed by an opening reception at 6 p.m. that we hope to see everyone at!
The main conference starts on Saturday morning. We hope attendees will make every effort to book return flights after 2 p.m. on Sunday, September 25, to have time for graduate student presentations and a farewell lunch.
---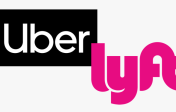 Rideshare Tips
Austin has a few rideshare options including Uber and Lfyt. Below is some general information about taking a rideshare from the airport.
1. Open your app and request a ride
Once you have picked up your luggage, request a ride from your rideshare app. Choose the AUS airport and the size ride that will accommodate your group size and luggage.
2. Follow directions in the app
From the main terminal, follow signs for the rideshare pickup area located on the ground floor of the rental car garage. This can be accessible from the arrivals or departures floor. From the South Terminal, pickups are located curbside.
3. Meet your driver
Make sure to always verify your driver's name, license plate, and car color before getting in.
---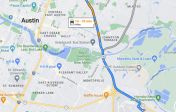 Commute Times
Anticipate a commute of approximately 30 minutes from Austin-Bergstrom Airport to the Moody College of Communication.
Anticipate a commute of approximately 20 minutes from Austin-Bergstrom Airport to the DoubleTree.
Coffee Shops

Lucky Lab Coffee Co
2421 San Antonio St.
Austin, TX 78705

Cafe Medici
2222 Guadalupe St.
Austin, TX 78705
Starbucks
504 W 24th St. Suite B
Austin, TX 78705
---
Restaurants

Cava
2426 Guadalupe St.
Austin, TX 78705

Kerbey Lane Cafe
2606 Guadalupe St.
Austin, TX 78705

Roppolo's Pizzeria
2604 Guadalupe St. Ste A
Austin, TX 78705

Moody's Kitchen and Bar
2530 Guadalupe St.
Austin, TX 78705