Tell us a little about yourself and your academic background.
I come from Shandong University, Jinan, China, where I serve as a lecturer in the Department of Foreign Language and Literature. However, none of my degrees including BA, MA and PhD were granted by "English Department". I received my BA, MA and PhD degree in Marketing, and part of my degrees are from English speaking countries. I got my BA in Marketing from the University of Nottingham, UK, and before that I studied in the University of Waikato, New Zealand for two years as an exchange student, where I improved my English skills and broadened my knowledge in the area of marketing and management. Following the trend of bilingual teaching and interdisciplinary studies, I started my career in Shandong University. Apart from teaching English, I also teach advertising and consumer behavior in a bilingual manner.
My research interest is cause-related marketing, which is a marketing tool that involves the cooperative efforts of a profit business and a non-profit organization for mutual benefits.
I am specifically interested in the message framing in the cause-related marketing, producing effective messages to involve more consumers in buying pro-social products. However, I found that the lack of knowledge in the field of communication limited the scope of my research, because most of the research in the marketing field does not approach the study from the message framing point of view. I felt like I needed more theoretical input in communication and persuasion to expand my research path in this field. That explains why I chose the department of communication instead of business school as a site of my visit.  
What made you choose UT-Austin and the Department of Communication Studies as your site as a Visiting Scholar?
My interest in message framing in the cause-related marketing drove me to search articles in the field of communication, where I felt myself drawn to several articles from Matthew McGlone from the Department of Communication Studies in the Moody College of Communication, who specializes in health communication. I then did some research on UT-Austin, and found that UT is a pre-eminent research university with highly ranked communication programs.
And also I did some research on the city: Austin has been ranked to be one of the most desirable cities to live in for several years in a row, with pleasant weather and live music. I was like, this is the place I would definitely go if I get a chance. I then contacted Barry Brummett, the head of our department, who circulated my email of request to be a visiting scholar among faculty in the Department of Communication Studies. I was very lucky and grateful that Matthew McGlone was interested in sponsoring me, considering some connection to my research interests. 
What has most surprised you about Austin, the campus and/or the department?
Although everyone on earth knows that America is a melting pot, I am still surprised and impressed by how Austin, UT, and the department embrace and celebrate differences. Living in Austin, I do not feel that I am an outsider, which is an amazing experience in a foreign country. I was constantly asked which state I was from instead of which country I was from when I said that I was new here. My affection with Austin grows day by day, swimming in the Barton Springs Pool, kayaking in Lady Bird Lake, watching fireworks on Independence Day, camping on a genuine Texas ranch, hiking along the Greenbelt Trail, the list goes on… 
The department has also made me feel at home. Working with Matt and Barry has been an hour and I have learned a lot from them. Matt gave me step-by-step instructions on IRB application, the use of MTrurk to gather data etc. Barry has invited all the visiting scholars to his house many times, having Texas home-made barbecue and socializing with some of his friends. Other professors, staff and graduate students in the department are also very pleasant to be with.
What have you enjoyed the most about your visit so far?
The whole experience has been amazing. If I really have to choose THE most rewarding and enjoyable part of my stay, I would say it's the professional and personal relationship made during my stay. I am able to connect with professors, scholars and fellows in the department, participating in the graduate seminars, having one-to-one discussion with Matt on my project, joking around with some of the graduate students etc.
What courses are you currently auditing and what do you enjoy most about them?
I am now attending Matt's weekly graduate seminar on the interpersonal communication theory. I am totally impressed by how he interacts with graduate students, and how much graduate students commit to their studying and researching. Another thing that I benefit a lot from the course is that I can borrow some of the interpersonal communication theories I learned from the course and use it in the field of marketing.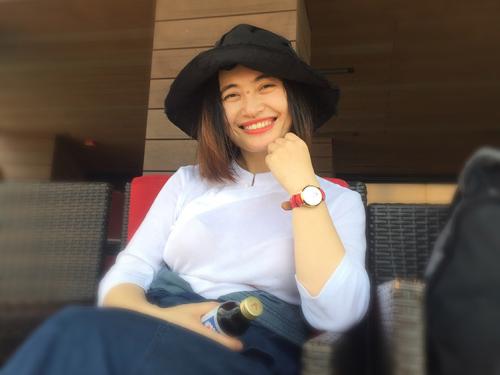 Visiting Scholar to the Department from China