New Graduate Student Cohort Welcomed to CMS
On Monday, Aug. 15, 2022 the Department of Communication Studies welcomed the new graduate student cohort to UT. There were many events that happened that week to welcome this new group of learners, scholars, teachers. We had planned activities on Monday, Wednesday, and Friday of orientation week, and also built in plenty of time to get one-on-one help so students, staff, and faculty would feel well prepared to get started with the Fall semester.
On Aug. 15th our students joined Mary Crawford, Director of Moody College's Center for Advancing Teaching Excellence (CATE), for the New Teaching Assistant (TA) Training. This inclusive teaching workshop was an opportunity for our students to interact with graduate student TA's from across Moody disciplines and learn about the many teaching resources in the College that will help them succeed in graduate school.
Then on Wednesday, Aug. 17th, our new students joined us in CMA for a full day orientation specifically geared towards the CMS graduate program. During the morning meet and greet, with coffee and a light breakfast, was the first opportunity to meet the Department staff in person! After hearing about the graduate program procedures and policies from Anne Bormann, the Graduate Coordinator, and more about specific academic initiatives by Rene Dailey, the Graduate Advisor, they were welcomed by the Department Chair, Craig Scott. Then the new cohort met with faculty in their area of study over lunch as a chance to discuss specific interests and ideas for future involvement in research.
The afternoon session began with a presentation by Mackenzie Pike and other leadership for the CommSGC student community. Then the new cohort met with current CMS graduate students for panels to hear first-hand accounts of their experience in the CMS program. The day wrapped up with our traditional Amy's Ice Cream social hour where we had Marc Speir, of Moody's MarComm group, take professional headshots for the new students who wanted them to use for their student profile, CV, or Zoom profile.
On Friday, Aug. 19th, the new cohort attended the Graduate School's Orientation sessions that were of interest and were able to join the Graduate School's Orientation Canvas Resource page for even more resources, advice, and great videos to help them prepare for what to expect in graduate school at UT.
In addition to the above events, the CMS Graduate Coordinator and Graduate Advisor held office hours all week as well to help students with last minute paperwork, employment and start-up documentation, and any outstanding registration questions that they encountered throughout the week. Graduate Coordinator Anne Bormann noted, "It was a full week and a lot of information shared. We know that this first semester of graduate school can be overwhelming and we hope that this orientation week provided the information necessary to succeed and thrive here at UT."
The orientation continued with the CMS Fall Kickoff event, which featured introductions and welcomes among the new graduate students, returning graduate students, new faculty, and returning faculty/staff. Following a fun set of introductions, those in attendance celebrated at Rappolo's Pizza.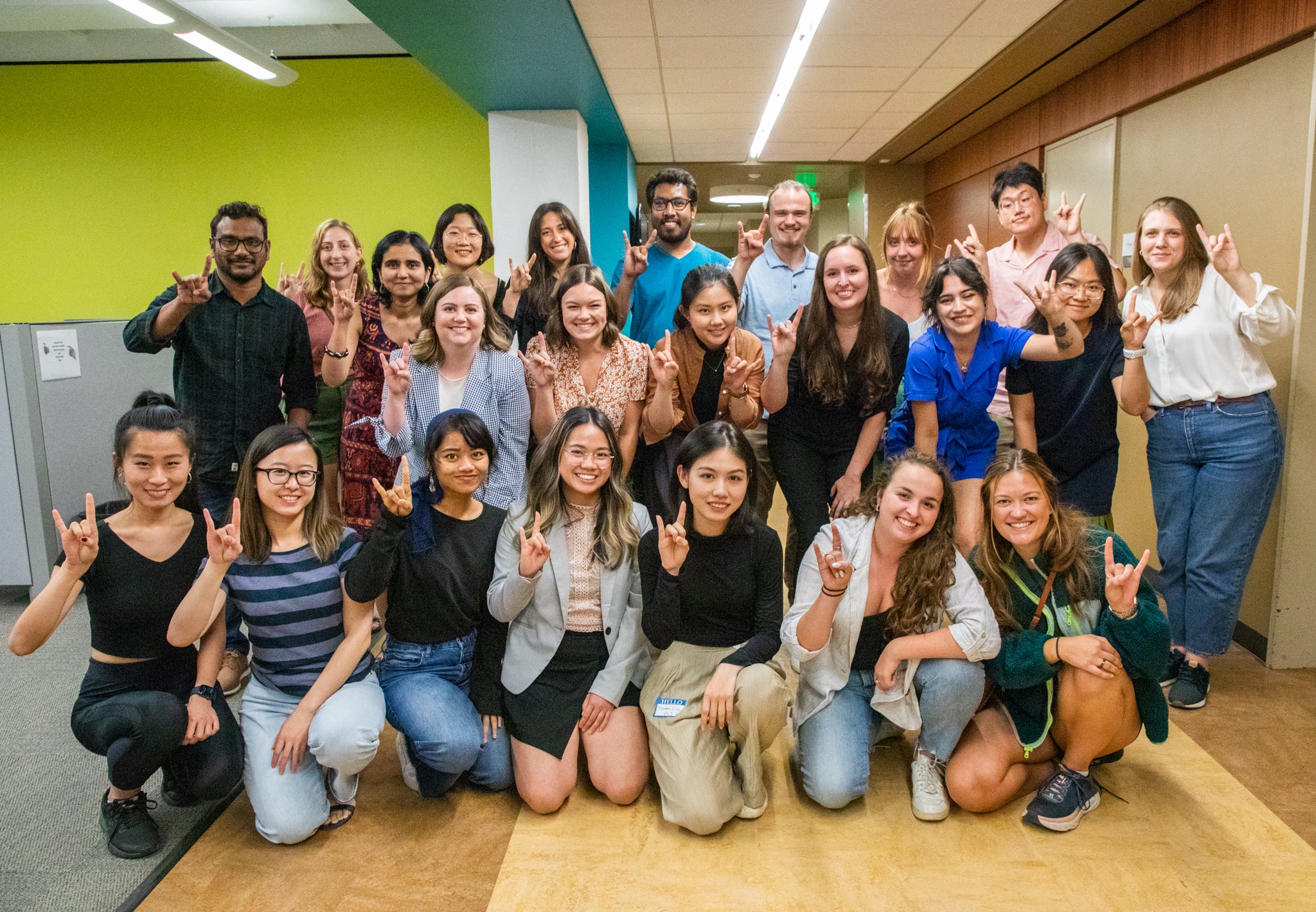 The members of the incoming graduate cohort are:
PhD Students:  
INP area: 
Jacinta Tran   
Ashley Koszarek  
Nikita Trafimovich 
Michelle Rodriguez 
Maya Blitch   
OCT area: 
Yixuan Liu  
Emily Norman  
Jovana Andelkovic  
Mir Rabby  
Mackenzie Schnell   
RLP area: 
Vishal Thakare  
Jamie Jelinek  
Olivia Gellar  
Moo sun Kim 
James Bezotte  
MA Students:  
INP area: 
Rachel Herschmann 
Abbey Cole  
OCT area: 
Leona Pang 
Siyu (Catherine) Li  
RLP area: 
Caroline Murray