Hart Honored with Citizenship Award from ASI
Dr. Rod Hart, who holds the Allan Shivers Centennial Chair in Communication, has been awarded the Shirley Bird Perry Longhorn Citizenship Award. This annual award given in Perry's name was created to recognize university students, members of the faculty/staff/administration, or alumni for work that brings honor to the university community and that positively impacts social life. The award was presented as part of "Great Conversations 2023," an annual event sponsored by the Annette Strauss Institute (ASI) for Civic Life. UT President Jay Hartzell made the award presentation in front of a large audience of state government, university, and other civic leaders.
Hart was selected based on his many contributions to the university and to civic life in Texas. Most notably, he was the Founding Director of the Annette Strauss Institute for Civic Life, which is a non-partisan organization dedicated to educating, inspiring, and connecting the next generation of Texas civic leaders. Hart would later become Dean of the Moody College of Communication from 2004-2015—securing the largest endowment for the study of communication of any public university in the country and raising funds to construct the Dealey Center for New Media on campus.
Hart's well wishers included a number of family members, faculty colleagues, former students, and other friends. Emeritus Professor Rick Cherwitz said, "What a fitting award! The most impressive thing about my close friend and colleague Rod Hart is that, in addition to being an outstanding and prolific scholar, his research is a paradigm for civic engagement, simultaneously informing both scholars and ordinary citizens about the political environment in which we live." Former ASI Director Susan Nold commented, "No one is more deserving of an award named for Shirley Bird Perry than Rod Hart. Rod taught me that knowing the right question matters more than knowing the right answer. I am grateful to know Dr. Hart and even more grateful to have contributed to his enduring legacy through my work at the Annette Strauss Institute for Civic Life." Interim ASI Director Talia Stroud and long-time colleague Sharon Jarvis also praised Hart in pre-recorded video messages played to the audience.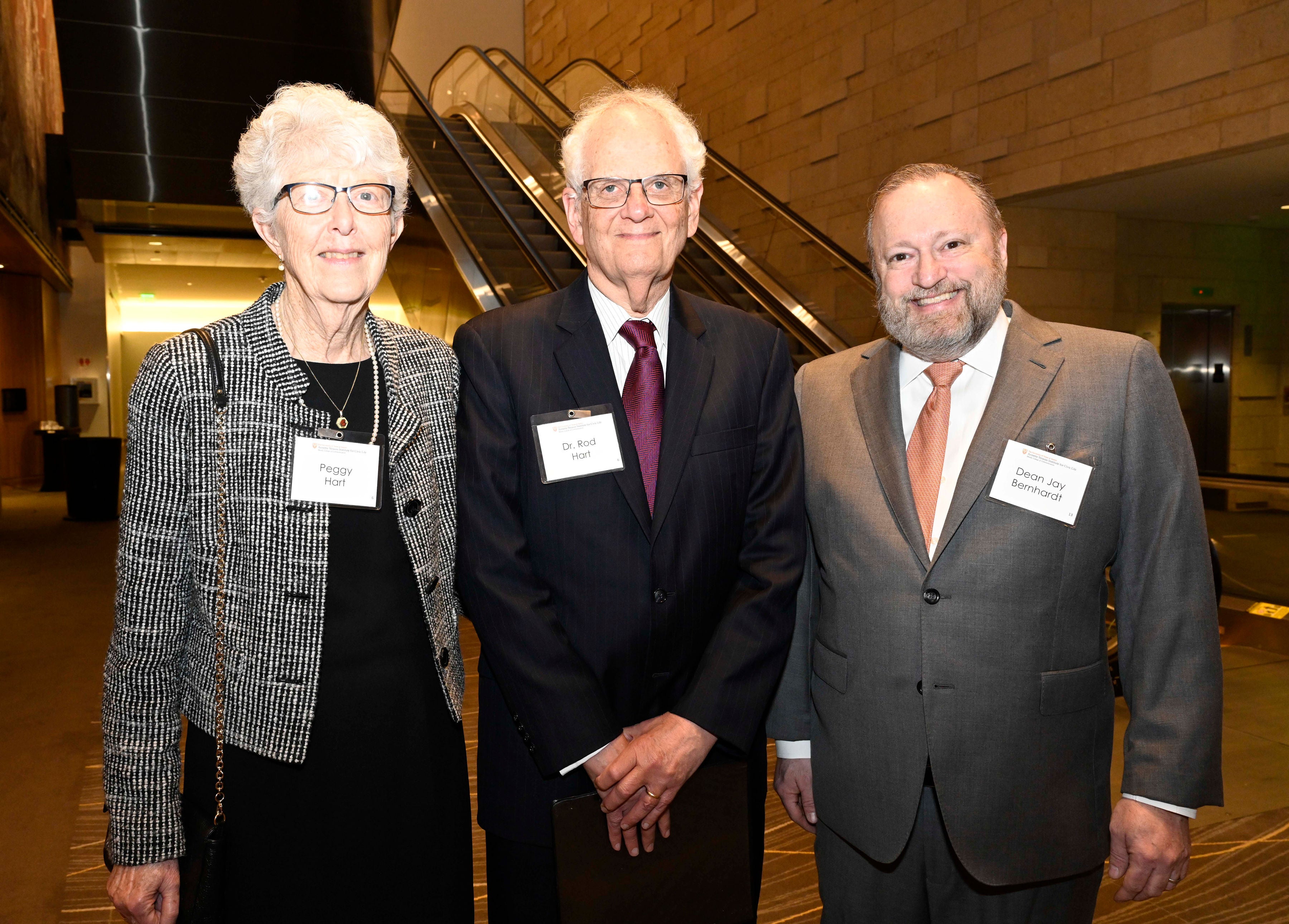 Peggy and Rod Hart join Dean Jay Bernhardt at Great Conversations 2023
Hart is the author or editor of 17 books. He is a Fellow of the International Communication Association, a Distinguished Scholar of the National Communication Association, and the Murray Edelman Career Award winner from the American Political Science Association. He has also won numerous teaching awards at UT Austin. The department congratulates Dr. Hart on this most recent honor.