Faculty, Grad Students Win Multiple Awards at NCA
The department had a very strong presence at the National Communication Association convention in New Orleans, LA. We again hosted a very popular booth at the open house for graduate programs. Graduate Advisor René Dailey was joined by staff members Jenn Porras and Jennifer Betancourt along with multiple volunteers as we recruited potential applicants to our graduate programs. The department also hosted its annual Texas Party on Saturday evening of the conference. Crescent City Brewery was the location for this packed celebration as we reconnected with program alums and other friends of the department. Special thanks to Dean Jay Bernhardt and department faculty with professorships for making the Texas Party possible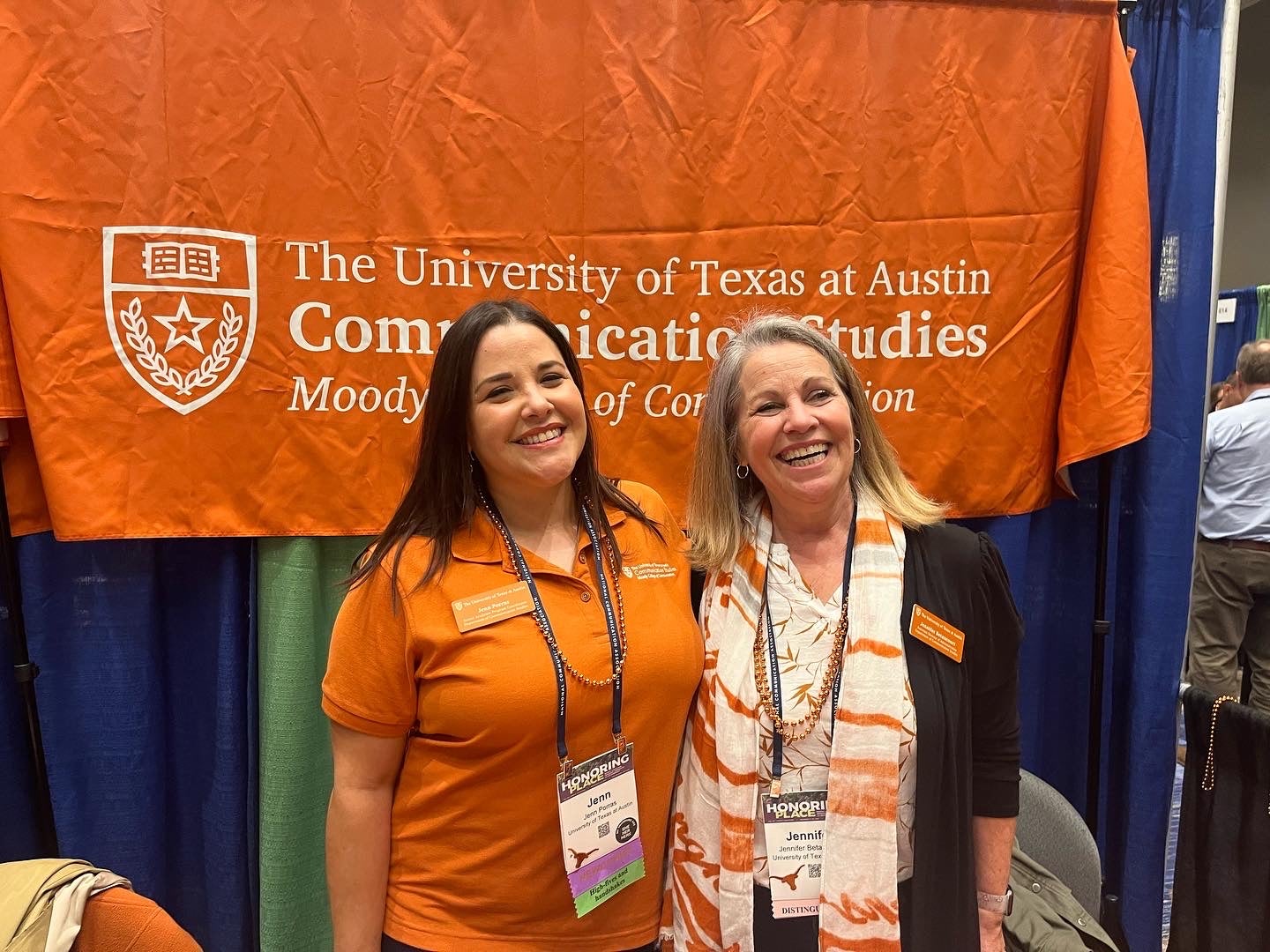 Department members also won numerous awards/honors at the conference. These included the following:
Jeffrey Treem received the Early Career Award from NCA's Ethnography Division

Roselia Mendez Murillo won the Outstanding Dissertation Award from the Interpersonal Division for her project "Using Theories of Relational Maintenance, Coping, and Resilience to Bridge the Distance between Separated Latinx Immigrant Families"

Yujin Kim's project "How Language Use on Facebook Drives Affective Polarization" was named the Outstanding Dissertation from the Political Communication Division (congratulations to advisor Talia Stroud as well).

Josh Barbour became Vice Chair and Program Planner for the Organizational Communication Division

Nathaniel Repay was installed as the Chairperson of the NCA Student Section

Courtesy faculty member José Izaguirre III received the 2022 Outstanding Journal Article Award in the Latina & Latino Communication Studies Division for his article in Quarterly Journal of Speech titled "Revoluciónizing América: La Revolución and Gustavo Díaz Ordaz's 1964 Inaugural Address."

Courtesy faculty member Mary Bock's book

, Seeing Justice: Witnessing Crime and Punishment in Visual Media

, won the Diane S. Hope Book of the Year award from the Visual Communication Division.

Courtesy faculty member Karma R. Chavez won two major awards from NCA:

Diamond Anniversary Book Award and the

Douglas W. Ehninger Distinguished Rhetorical Scholar Award

.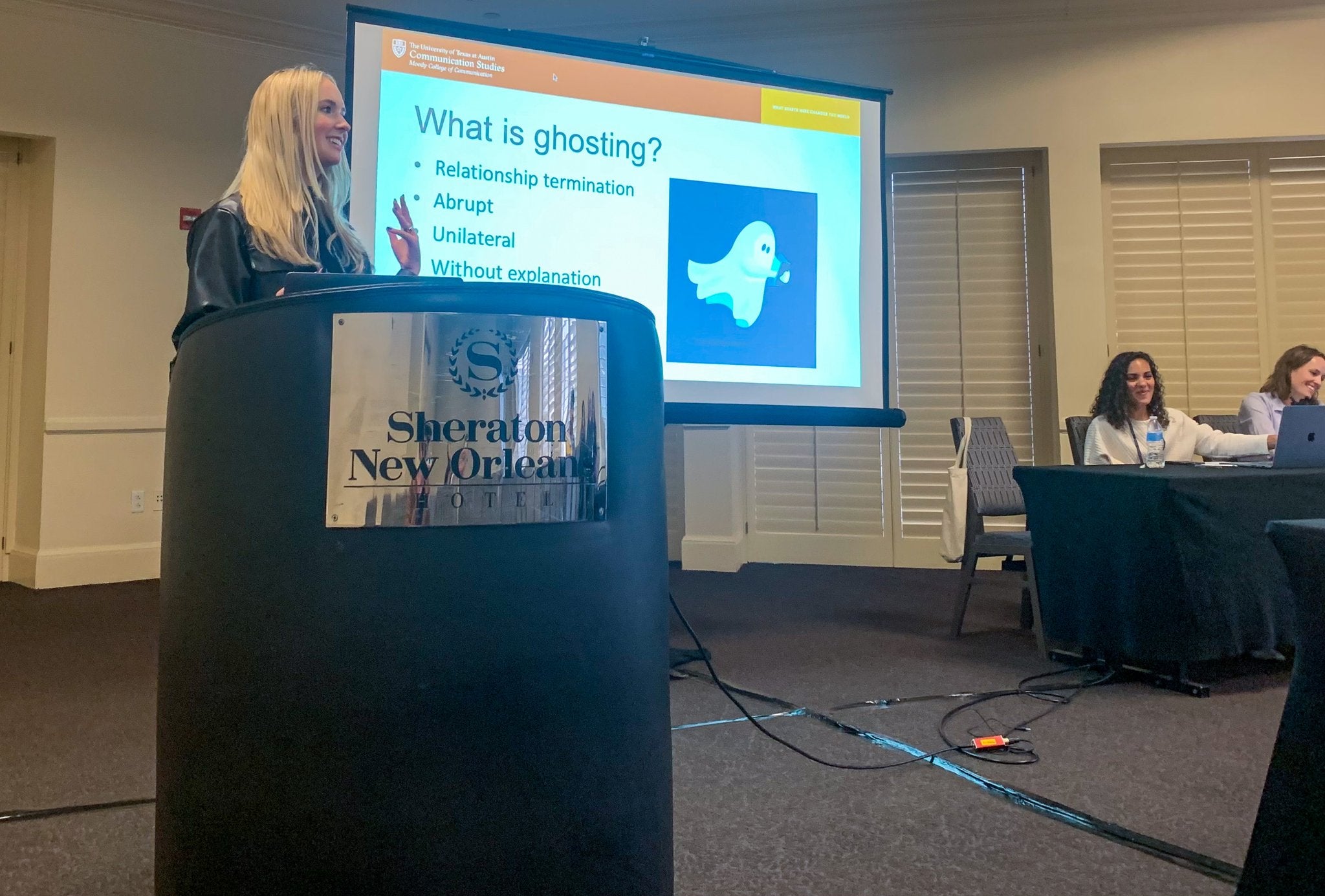 Fifteen different department members were also on ten different papers presented on Top Paper Panels at the conference:
Holland, E. – Top Papers in Communication and the Future --

Afrofuturist Film and the Re-presenting of Racial Time

Browning, L. and Scott, C.

 – Top Papers in Organizational Communication -- Whistleblowing, Anonymity, and the Norwegian National Lottery: How to Keep a Secret Identity for 29 Months         

Stroud, S. – Top Papers in Public Address --

Reconstructive Rhetoric, Appropriation, and the Struggle against Caste: Bhimrao Ambedkar's Pragmatist Additions to Indian Public Address

Scott, C. and recent alum Schlag, K. – Top Papers in Freedom of Expression --

Anonymous Forms of Free Expression for Self and Other: Identity-Based Differences in Communication Behaviors

Mendez Murillo, R. – Top Papers in Applied Communication --

A Social Ecological Approach to Understanding Undocumented Mexican College Students' Resilience during the COVID-19 Pandemic

Menhart, S., Xu, Y., Coolidge, D., Carlson, N., and Sun, S. – Top Student Papers in Human Communication and Technology --

Organizational Identity and Artificial Intelligence: A Linguistic Analysis of Podcast Interviews

Hazlett, A. – Top Papers in Feminist and Gender Studies -- 

"What should the world know about you?": Witnessing the Decolonial Feminist Resistance of Criminalized Survivors

3 Papers on the Top Papers in Communication & Social Cognition:

Montagnolo, C. –

Accidents and Attributions: Differential Consequences for Religious Bias

Jia, M. and McGlone, M. –

What can a bad apple do? Effects of norms on participants' production and perception of impoliteness in online discussions

Palomares, N. –

Who Do You Trust? How Machine and Bandwagon Heuristics Interact with AI and Crowdsourced Fact-Checking Agents to Affect Credibility
Congratulations to all the award winners and all those who helped make this year's NCA a success for the Communication Studies department.