Hopper Lab Ceremony
On Friday, September 22, the department re-dedicated the space fondly called "The Hopper Lab," named after longtime faculty member Robert Hopper. Although Robert passed away 25 years ago after 3 decades on faculty, he has stayed with us through this lab space that has remained focused on the research and communal needs of the department's graduate students. Graduate students, faculty, and several guests packed the Hopper Lab for the ceremony.
Attending and speaking at the event were Robert's wife, Kay Hopper, and their daughter Christine (who also shared remarks from her brother Brian, who was unable to attend). Department Chair Craig Scott announced that the department had just received a very generous $10,000 gift from Kay to be used for needs related to the Hopper Lab and its continued use for years to come. 
Pat Witherspoon, who was chair of the department when the Hopper Lab was first named back in 1999, shared several comments about Robert and the lab space being re-dedicated: "The University of Texas Faculty Senate honored Dr. Hopper with a memorial resolution in December of 1999. By that time we had sought, and received, approval to name the Robert W. Hopper Language and Social Interaction Laboratory. More than 20 years before many of us became concerned about the influence of  cell phones on the family, on interpersonal relationships, and on our lives at work, among other things, Robert Hopper warned us in his 1992 book, Telephone Conversation, that technical innovation was transforming and constraining possibilities for speaking: 'our use of the telephone may be the electronic medium that transforms its users the most thoroughly."'   She went on to say about the Hopper Lab itself: "…This is a special space.  In it students can talk and listen…and learn. In this place, we can use new technology without being controlled by it.  Because, after all, it bears the name of  a professor who was …a researcher, a teacher and a mentor who found a space and grew it far beyond its walls."
Following Witherspoon's remarks, Scott read a plaque to be permanently hung in the lab space: 
In Honor of
Robert Hopper, PhD
Charles Sapp Centennial Professor of Communication
Speech Communication/Communication Studies
1970-1998
Thoughtful Teacher – Admired Advisor - Remarkable Researcher
The new space includes a small cabinet displaying some of the technologies important to Hopper and his research, four desktop computer spaces with research software, flexible workspaces, several bookcases full of books/journals and other reference material, whiteboards/chalkwalls and large digital monitors, and the grad kitchen. It also includes several pieces of furniture to make this into the welcoming space it is today.
The new space also includes a large neon sign with the words "The Hopper Lab and the Surratt Lounge." The Surratt Lounge is named after the person who for so many years was the one who kept this department running: Margaret Surratt. Scott noted in his remarks that given how much Margaret enjoyed working with Robert, it seemed appropriate that the Surratt Lounge be part of the Hopper Lab. Scott then read a plaque honoring Surratt that will be hung in that space: 
In Honor of
Margaret Surratt
Executive Assistant
Speech Communication/Communication Studies
1972-2010
Amazing Administrator - Caring Colleague – Wise Woman
Surratt briefly thanked those in attendance for honoring her in this way. Scott thanked several other people who had been key to this space. First, previous department chair Barry Brummett not only donated his former office couch as the centerpiece for the new lounge, but it was his insistence that we name this the Surratt Lounge. Scott also thanked Yohanna Tesfai, Mackenzie Pike, and all the graduate student leadership who helped reimagine this space over the past couple years. Finally, he thanked the CMS staff who organized the day's event and worked hard to make this such a useful space for our graduate students—and he noted that it was staff who came up with the neon sign for the room. The celebrations continued with refreshments in the new John R. Fleming Communication Studies Conference Room.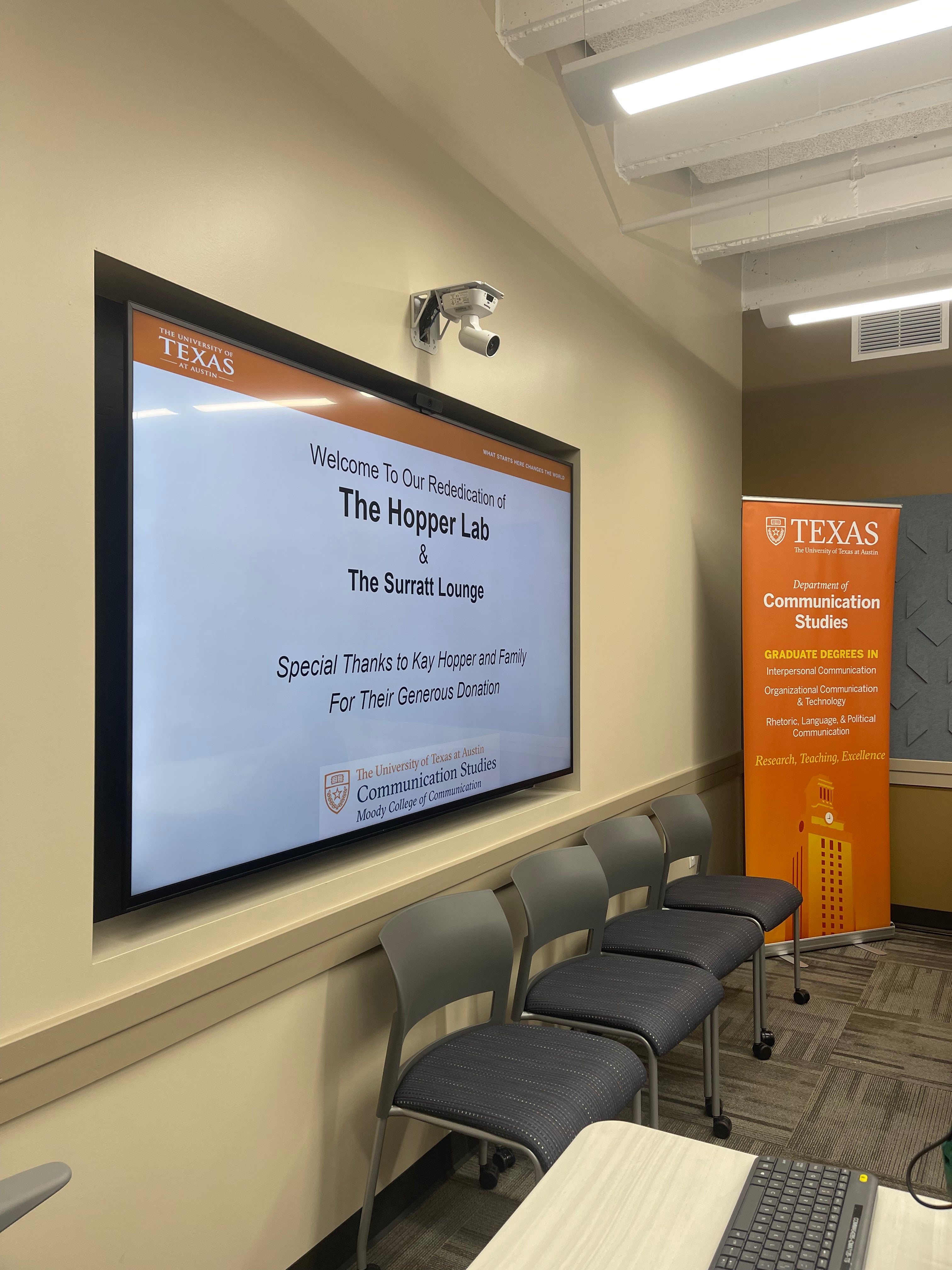 CMS Hopper Computer Lab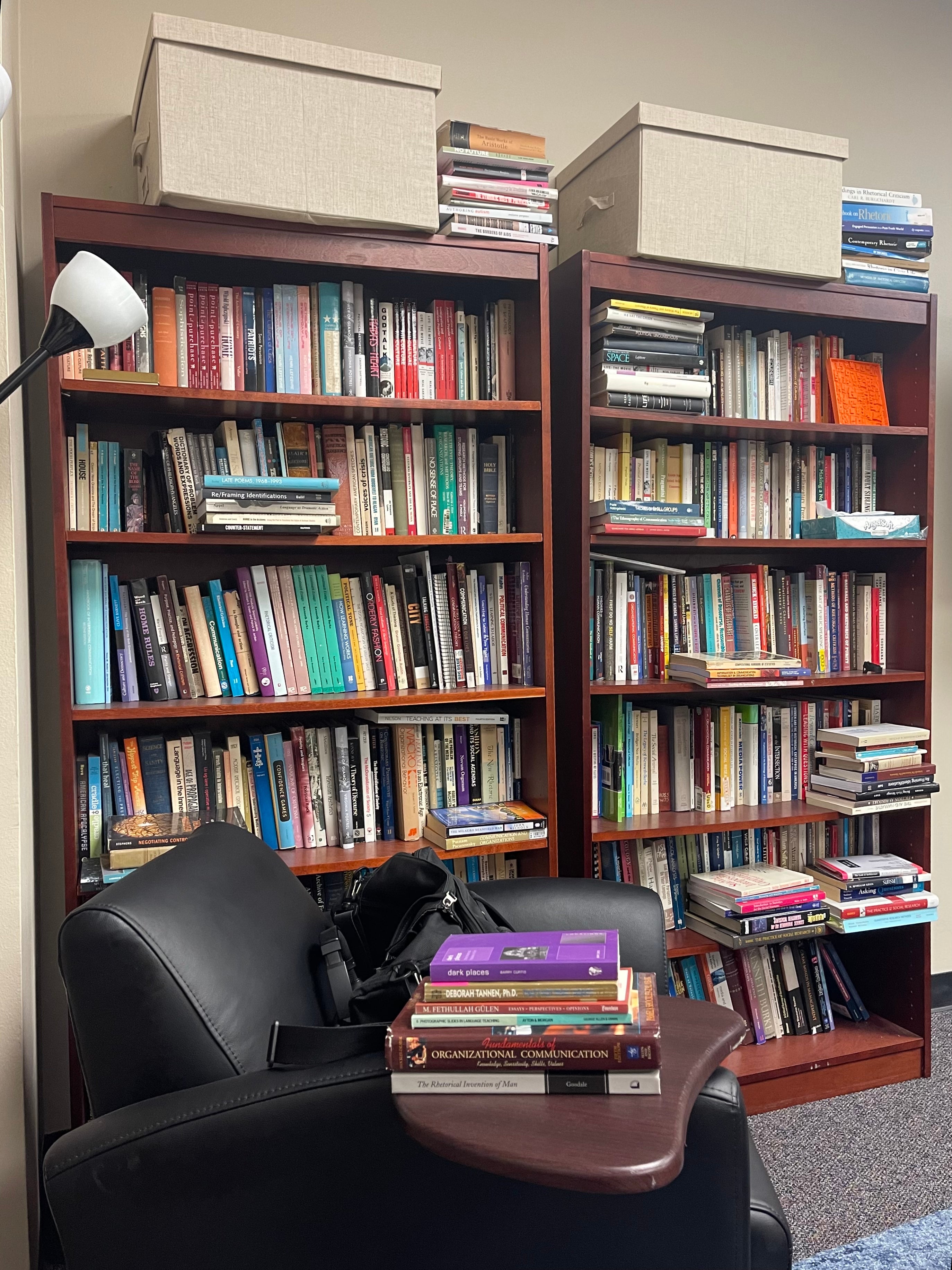 CMS Hopper Lab Library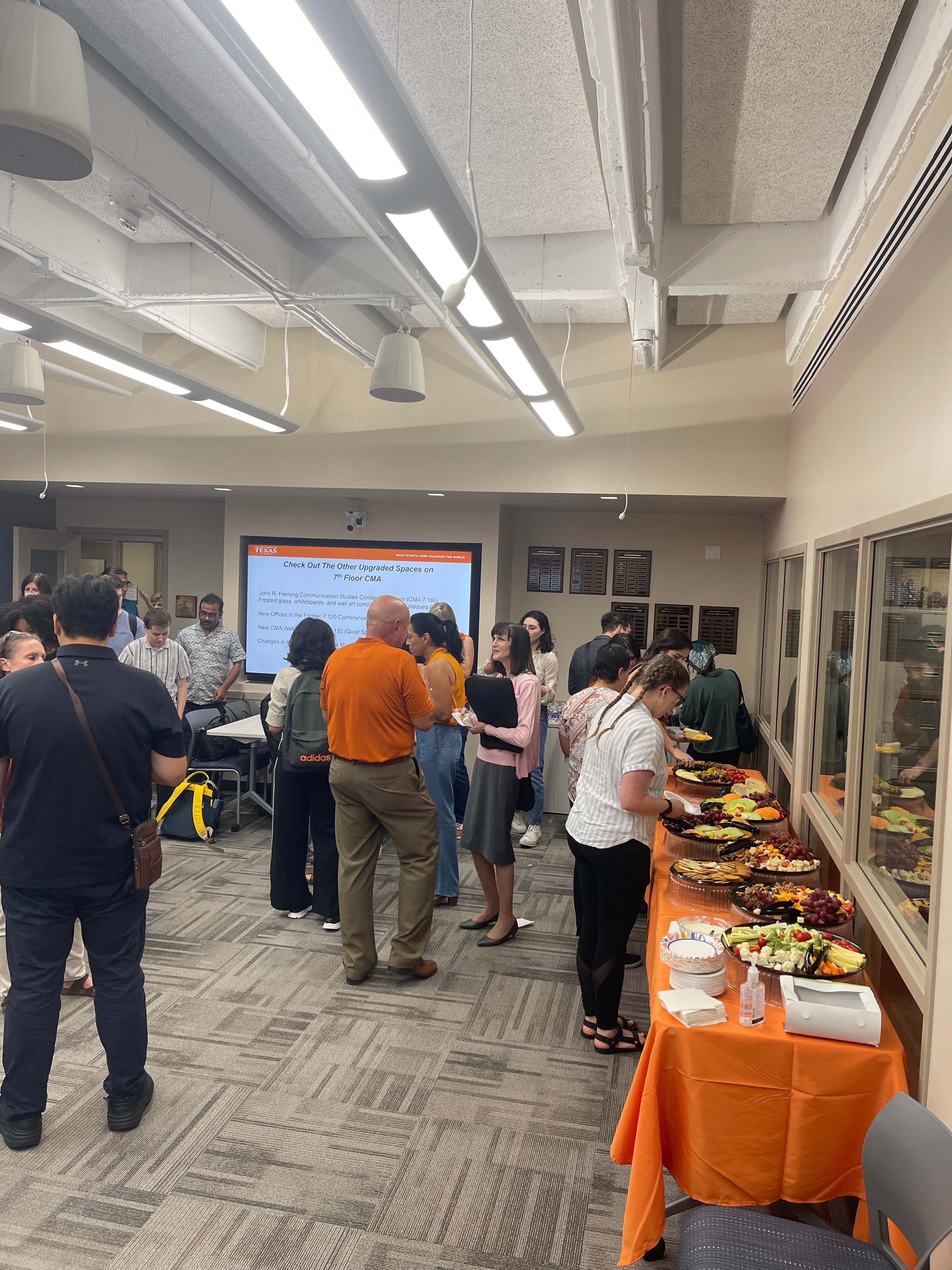 CMS Conference Room Ceremony