Meet Dawna Ballard
What do you currently do at UT?
-"I am Faculty in the organizational communication and technology area; associate professor. I teach undergraduate and graduate courses on chronemics, co-direct the internship in communication studies, and teach a graduate course called Groups2, Teams, and Communities and another on scale development and instrument design.  I research what drives our pace of life and its impact on the communication practices and long-term vitality of organizations, communities, and individuals."
Where are you from?
-"Southern California--Rialto and Riverside, in particular"
How and when did you decide to work in communication?
-"I've known since high school.  I took an elective in communication  and it confirmed that it was the field for me.  I then earned my bachelor's degree in Communication Theory & Rhetoric at Howard University where I spent a summer as a Congressional intern to get experience speechwriting (one of the two areas in communication that interested me).  I decided I didn't care for politics at all and then focused my MA and PhD in Organizational Communication at the University of California, Santa Barbara."
What's one of the most memorable things that happened during your Undergraduate Years?
-"I read a book called The Dance of Life; The Other Dimension of Time by a cultural anthropologist named Edward Hall.  It was the first knowledge I had that there were entire cultures who valued and used time differently.  This idea changed my sense of what was possible in communication, and would become the thing I spent the rest of my life studying."
What's one of the most memorable things that happened during your Graduate Years?
-"The very first year of my Master's program, Edward Hall was a keynote speaker at the ICA (International Communication Association) Conference in New Mexico.  I flew to see him give his talk and got to meet and talk to him. I was absolutely giddy, and he was so kind and engaged."
What you proudest of?
-"A few years ago, I worked on a research project to learn more about the best practices of multidisciplinary teams (MDTs) at the Children's Advocacy Centers of Texas (CACTX), a nonprofit dedicated to helping children and their families impacted by abuse achieve safety, justice, and healing. I was honored to be able to leverage my research training and skills for such a critical need. Based on that work, the leadership at CACTX reached out to me about serving on the Board of Directors to support their newly expanded vision to end child abuse in Texas. I agreed and will begin as a board member this fall."
What is a fun fact about you that most people here don't know?
-"I have a love of all things paper.  My much-neglected hobby is paper-crafting, making cards in particular.  While I haven't devoted much time to it in recent years, I still relish any chance I get to visit stationery stores, wrap a gift, or find the perfect pen."
If you could go back in time, what's one piece of advice you would give to yourself?
-"Get more sleep."
What's one piece of advice you would give current students?
-"Get more sleep."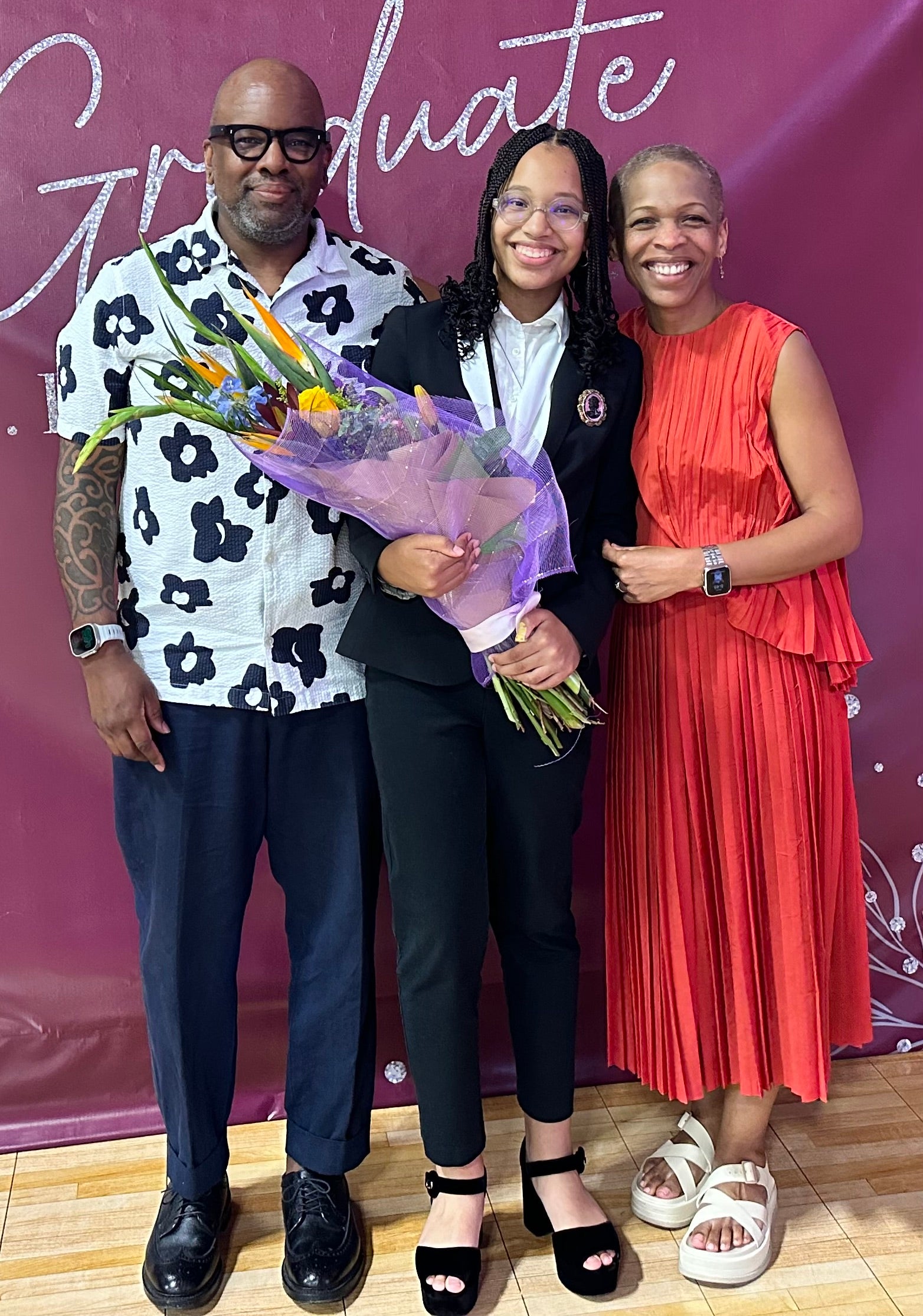 Dawna's family at her daughter's 8th grade graduation
Where is your favorite place in Austin?
-"Canje restaurant"
What movie genre is your favorite?
-"Comedy"
Where would you love to travel to next?
-"The Amalfi Coast"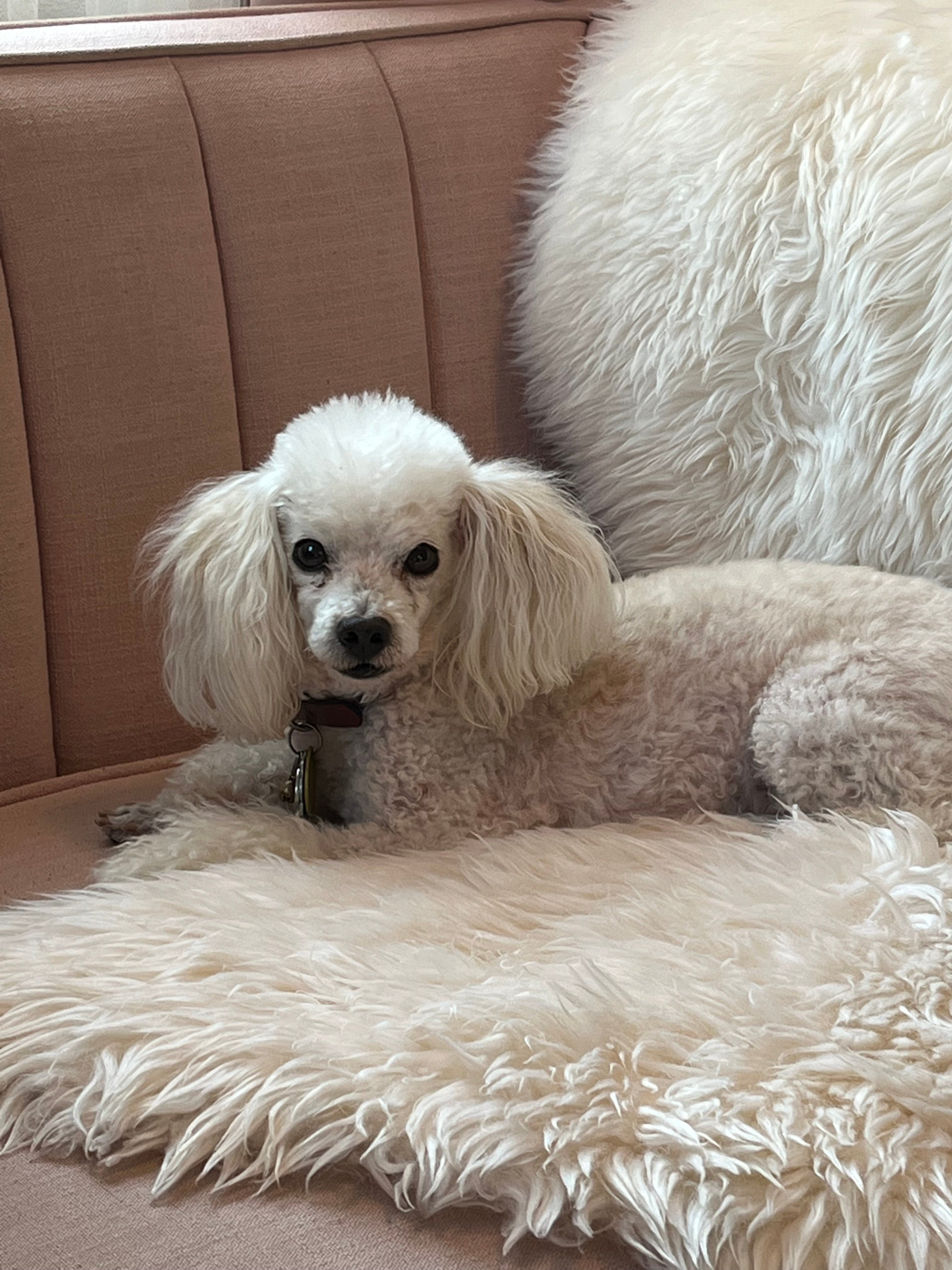 Dawna's family dog, Jean Oliver, hanging out in her office