Dr. Keri K. Stephens' research and teaching interests bring an organizational perspective to understanding how people interact with communication technologies.  She is an Associate Professor (Ph.D., University of Texas at Austin,) in the Organizational and Communication Technology Group in Communication Studies and the Associate Director for Strategy and Innovation with the Center for Health Communication at The University of Texas at Austin. 
She has published over 50 peer-reviewed articles, book chapters, and encyclopedia entries in outlets such as Communication Monographs, Communication Research, Communication Theory, Health Communication, Human Communication Research, IEEE Transactions on Professional Communication, InternationalInformation Systems for Crisis Response and Management Conference, Journal of Business Communication, Journal of Computer-Mediated Communication, Journal of Public Relations Research, and Management Communication Quarterly. She co-authored a book and has received 20 top paper panel awards at conferences.  Stephens is currently an Associate Editor with Management Communication Quarterly, a former Secretary of the Organizational Communication Division of the International Communication Association and a past Co-Chair of the Training & Development Division of the National Communication Association.
Stephens currently teaches graduate and undergraduate courses in Organizational Communication, Communication Technologies, Health, Safety, and Technology in Organizations, Contemporary Communication in Meetings, Communicating to Build Sales Relationships, and Communication Studies Internships.  She has published papers with 24 different graduate student co-authors and had 23 different undergraduate students on her research teams.  In 2016 she received the President's Associates Teaching Excellence Award and she also received the Eyes of Texas Teaching and Mentoring Award in 2013.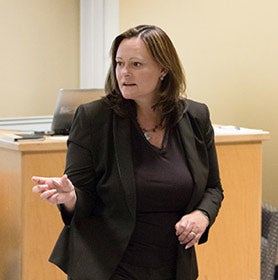 Mark the date:  Friday, April 21, 2017 Crisis Communication & New Media
As part of the New Agendas in Communication Series, Dr. Stephens is hosting a conference featuring the work of top junior scholars in the area of Crisis Communication and New Media.  We will be discussing health crisises, campus safety, disasters, emergencies, and organizational crises.  In addition to the scholarly talks, we will include a practitioner prospective on these topics of growing importance for the world. 
Dr. Stephens is actively researching and presenting on interprofessional communication and technology use.  She has several collaborations with local healthcare facilities and teams of graduate students involved in this work.  These are a few of her recent presentations: 
Evidence-based Research on Health Informatics and Integrated Healthcare Teams.  Presented at the American Psychological Association Conference, Denver, Colorado.
Can I? Should I? Do I Want to… Bring My Own Mobile Phone to Work at the Hospital? Presented at Chapman University, Orange, CA.
Delivering Repeated Diabetes Health Messages Using MyAPDP. Presented at CoLab, Lisbon, Portugal.
Implementing a BYOD Mobile Device Use Policy in a Hospital: Boundary Barriers at the Individual, Unit, and Organizational Level. Top Paper Mobile Communication Division of ICA.
The Pivotal Role of Change Appropriation in the Implementation of Healthcare Technology. Top Paper Panel Organizational Communication, NCA.
Healthcare Communication and the Digital Age:  What it Means for Health Professions. Presented at Baylor University.
Using Technology to Communicate at Work: Norms, Desires, and Hidden Ethical Issues. Presented at Dalhousie University, Halifax, Nova Scotia.
Interprofessional Communication and Mobile Technology Use in a Hospital. Presented at the McCombs Healthcare Symposium.
Patient Routing for Cost Effective Care. Presented at the McCombs/Dell Medical School Panel.
Interprofessional Communication & Technology Use: Partnership with Dell Children's Medical Center.  This research team is focused on understanding how nurses, physicians, residents, behavioral health, and pharmacists use communication technologies to coordinate care. Our team of Millie Harrison, Yaguang Zhu, Professor Josh Barbour, and Professor Stephens is conducting observations, focus groups, interviews, and collecting survey data.  Millie Harrison is also working closely to better understand stress & coping in residency and she is a co-author on an encyclopedia chapter on workplace wellness.  Yaguang Zhu is working with the childhood obesity prevention program examining messages around healthy behaviors and he is a co-author on a chapter on identity and health. 
Delivering Repeated Health Messages Through Digital Media to Increase Physical Activity in Dialysis Patients.   This research team represents a partnership between UT Austin, Universidade Lusofono de Humanidades e Tecnologias, and an Austin Nephrology Practice.  Our team is developing a digital media platform that utilizes content focused on diabetes care and physical activity.  Yaguang Zhu is the primary research assistant on this project. 
Team Overload: Communication Overload!  This project started as an undergraduate mentorship project and is taking on an exciting life.  Our team conducted a Q-Sort in person and online to better understand what people think about communication overload.  This team includes:  Julia Kim, Elizabeth Glowacki, Dron Mandhana, Xiaoqian Li, Ignacio Cruz, Bea Scott, Caitlin Harrington, and Kelly Dziersk.  We hope to develop a scale that defines and measures communication overload.  No papers yet, so stay tuned. 
Let's Meet Between Meetings!  Our team of Yaguang Zhu and Ignacio Cruz and I are working to better understand the impact of conversations happening between formal meeting on organizational outcomes.  Our prior project looks at college students in meetings and also included Eric Waters.
Developing an Understanding of Organizational Health Literacy.  This project is a large-scale data collection effort conducted in partnership between my Graduate Survey of Organizational Communication Course, The School of Nursing, and CommUnity Care. We will have our first two papers from this project under review by late 2016.