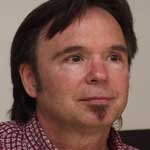 Humility and dignity are words which define Mark Hallman, an Austin-based producer, engineer, singer-songwriter and musician. As one of the most accomplished music professionals in the state, his body of work on stage and in the studio make him an enduring figure in the field.
Hallman is owner of the Congress House Studio, a fully equipped analog/digital studio that is widely considered one of the most appealing in the nation. The studio has a particularly avid following among singer-songwriters who view the peaceful environment of the "old house on a couple of acres in south Austin" as a home away from home. In fact, it has been used at times as an exclusive preserve for artists like Ani DiFranco and Eliza Gilkyson.
A thirty year musical veteran himself, Hallman began his career as a vocalist for several bands including Capitol recording artists Navarro, whose releases include "Listen" (1977) and "Straight to the Heart" (1978). Symbolic of his musical elasticity, Hallman has spent decades developing a wide range of partnerships and clients. With a spirit that disdains pretension, he began his career by touring and providing session work with Carole King (on which he appears on six albums), Dan Fogelberg, and Iain Matthews, then spent two years as a CBS Songs publishing composer.
Upon his arrival in Austin in 1979, Hallman rented the Congress House as a community dwelling for the members of his band. Having adopted the city as his permanent residence, Hallman decided that he wanted to pre-produce recording projects full time. "I went straight into producing, gave up the artist career and I've been producing ever since," Hallman said, although his work with Hamilton Pool yielded the lush 1995 LP, "Return to Zero." His multi-instrumental skills playing drums, bass, acoustic and electric guitar, keyboards, mandolin and accordion also come in handy in the studio.
Throughout his career, Hallman has recorded and mixed music for artists in just about every American genre, working with artists including Shawn Colvin, Eric Johnson, Jimmie Vaughan, David Garza, Sara Hickman and Junior Brown. A man of rare musical cultivation, Hallman conveys the image of a master craftsman who enjoys "exploring the art of sculpting sounds." As he is quick to offer, "You know, is just fantastic. I'm really lovin' it."
hallman from Madeline Maxwell on Vimeo.
"I went straight into producing, gave up the artist career and I've been producing ever since."