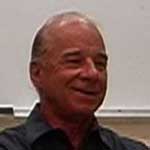 Lucky Tomblin is that rare individual who sees an idea through from conception to realization. His understanding of the intricacies of the music business is evident by his many accomplishments as a musician, songwriter, producer, recording studio owner, publisher and all-around industry big wheel. A one-of-a-kind maverick, the San Antonio native's musical output is informed by a personal odyssey that's made him a unique interpreter of the Texas experience.
Raised as a country gentleman, Tomblin's formative years were marked by overachievement. During the 1960s, he self-taught himself the art of songwriting while delivering ice to pay his way through San Antonio College and St. Mary's Law School. His striking talent earned him the opportunity to make his public debut at an Alamo City edition of the Grand Ole Opry, where he rubbed shoulders with Roger Miller, Little Jimmy Dickens and Ray Price on stage. His credentials won, he was signed to Dynamic Records and released the folk-rock single, "On My Love," which became a regional hit. Tomblin next took his music on the road where he refined his craft beside musical contemporaries Jackie King, Sid Sims, Doug Sahm, Augie Meyers and the West Side Horns.
When the dust had settled, Tomblin found himself sequestered in Central Texas, where lady luck shined on him once more. "I went and bought a building that the city of San Marcos had abandoned . . . and in the back we created this recording studio," Tomblin said of the founding of The Fire Station. The building and its owner fast became a favorite retreat for music heavyweights such as the Texas Tornados, Joe Ely, and Jerry Jeff Walker. Lured back to the stage by Sahm, Tomblin began writing a flurry of "why'd you do me wrong songs" and joined his partner-in-crime on Sahm's Last Real Texas Blues Band tour of California.
"Things change. But you know, the more they change, the more they stay the same," Tomblin recalls of his return to the honky-tonk lights. "I started out in country music, and that's what I'm doing now." Tomblin and an all-star band released the country-flavored CD "The Lucky Tomblin Band," to rave reviews in 2003. Featuring a dream team of notable Texas veterans including Earl Poole Ball (Johnny Cash, Buck Owens), Cindy Cashdollar (Asleep at the Wheel, Bob Dylan), Redd Volkaert (Merle Haggard, Ray Price), Jon Hahn (Radney Foster, the Flatlanders), Sarah Brown (Buddy Guy, Albert Collins) and revered engineer Bobby Arnold, Tomblin's pure, pining vocals are splendid on several cuts, including his own "Dance Hall Sweetheart" and "Out of Your Mind."
In the past decade, Tomblin has moved behind the scenes as an executive producer of the independent documentary film, "Antone's: Home of the Blues," which sketches the origins of the Austin blues scene through Clifford Antone's decades long trials and travels. As for Tomblin, it seems to him that his body of accomplishments have all been in a day's work.
tomblin from Madeline Maxwell on Vimeo.
"Things change, but ya know? The more they change, the more they stay the same. I started out in country music, and that's what I'm doing now."