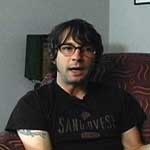 Tony Scalzo is one of Austin's most notable music success stories and finest songwriters. Best known as a member of the pop-rock outfit Fastball, Scalzo endured a whirlwind ride with the band's 1998 breakthrough album, the platinum-certified "All the Pain Money Can Buy." The work rested at number one on Billboard's Modern Rock Chart for seven weeks and reached the heights of the Top 40 Chart, buoyed by the single, 'The Way.' Fastball's 2004 Rykodisc debut, "Keep Your Wig On," made another strong impression in rock circles.
Commercial success aside, Scalzo's solo project, Tony Scalzo Machine, allows him the opportunity to scratch a more personal songwriting itch and steer his own musical detours. The results have been dramatic with ultra-sustained energy on his two solo EP's, "Different Drummers," and "Tearjerkers for Hardened Hearts." The Machine's first full length disc is expected in 2006.
"I find myself in a really good position being that songwriting is what I do for a living," Scalzo comments. The Hawaiian born son of a Marine began his music journey as an Orange County-based bass player in the late 80s, exploring various punk and new wave styles and personas. He left Southern California and moved to Austin in 1993 where he joined the Beaver Nelson Band. Within a year, Fastball was formed with pop music compatriots Joey Shuffield and Miles Zuniga. Their 1996 debut on Hollywood Records, "Make Your Mama Proud," set the stage for their wildly successful 1998 sophomore album.
Fastball's success, described by Scalzo as "a big home grown thing," prepared him for what he cheerfully terms his new material, a "20th century western music, sort of leaning towards the American side" which "uses the music I grew up with as a template for what I do now."
Scalzo, whose voice is described as one of the best in the rock world, believes that artists have the means to influence social awareness and has used his time to support many issues. The health of the world's environment is of particular interest, as Scalzo has performed in benefits for groups including the Sierra Club and Earthjustice. He's also lent a live recording of 'The Feeling is Gone' to a charity CD, "The Intimate Collection," whose proceeds went to the Red Cross to aid those suffering from Hurricane Katrina.
Whether in the spotlight or alone in his studio, Scalzo is an original Texas artist who strikes a deep, emotional chord in the heart of his audience.
scalzo from Madeline Maxwell on Vimeo.
"I find myself in a really good position being that songwriting is what I do for a living."