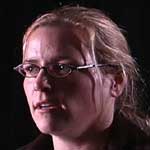 There are authentic modern day minstrels and then there's Susan Gibson. The Texas Hill Country based singer-songwriter travels as far and wide as any performer yet can summon her muse with the greatest of ease. Born in Fridley, Minnesota, and raised in Amarillo, Gibson is best known for writing the Dixie Chicks mega-hit, 'Wide Open Spaces.' The album by the same name has sold 16 million copies worldwide, but the tune is just one of a treasure trove of compositions that gets toes to tapping, near and far.
Gibson, a student of song from adolescence, began her career singing in the church and high school choirs while learning the entire catalogs of her favorite artists. From the stage of the Amarillo High talent show to her current performances, Gibson's easy stage manner has always remained winsome. That approach is ever present in the capital city, which offers Gibson just the right setting for piecing together new material. "I think Austin is a wonderful music city that doesn't try to force itself on you and lets you maintain your own individuality,' Gibson said.
Ironically, Gibson's Americana roots music leanings were spawned while a member of Amarillo's pop-rockers, the Groobees, "a hometown band that started together," Gibson said. During her time with the Groobees, Gibson wrote 'Wide Open Spaces,' for which she received the American Songwriter Magazine's award for Country Songwriter of the Year. "A national hit song kinda gets you above a surface that I otherwise wouldn't have," Gibson said of the song's success. "We played together for about two years after the song hit," but by the time the group disbanded, Gibson had developed her own style of deep, reflective contemporary folk.
Most of Gibson's songs relate a life that's seen everything from a turn at forest ranger school in Montana to commercial success. Her initial solo release in 2002, "Chin Up," prompted a tour which spanned North America and the United Kingdom, and that newfound worldliness is unmistakable on her 2005 release, "Outer Space." All along the route, Gibson has kept a sense of optimism. "I don't feel I have ever experienced discrimination because I'm a girl . . . I like to play music that doesn't make it sound 'like it's a girl singer.'" In the end, it is the personal experiences which have affected her most. "I have a lot of music that I like to poke fun of myself, as long as we're all laughing."
gibson from Madeline Maxwell on Vimeo.
"I think Austin is a wonderful music city that doesn't try to force itself on you and lets you maintain your own individuality."