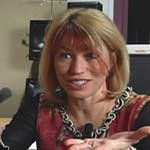 Sara Hickman is the quintessential musician with a social conscience. She is also one of the most beloved singer-songwriter's, not only in Texas, but in all of America. Raised in Houston, Hickman composed her first song at the age of eight and received an award from the Daughters of the American Revolution for her sketch. Music has remained a part of her life since, but more importantly, has become a vehicle she uses deftly to aid the suffering and afflicted.
From playing for teens in psychiatric units while still in high school to volunteering time to charities at the height of commercial success in the 1990s to appearing in an exhaustive number of concert benefits, Hickman's zest for advocacy is staggering. A list of her honors reads like a catalog of social organizations: Humana 'Women Helping Women,' Safe Place, Habitat for Humanity, House the Homeless, SPCA, Race for the Cure, National Association of Music Therapy, Mothers' Milk Bank, and a myriad of children, human rights, animal and other groups.
Upon graduation from the University of North Texas, Hickman became a staple of the flourishing Deep Ellum scene in Dallas. She self produced her first album, "Equal Scary People," which became a critical favorite and led to a deal with Elektra Records. "Shortstop" provided Hickman with a legion of admirers while the singer-songwriter enjoyed heavy video rotation on VH1. "Necessary Angels" was an inspired follow-up, but Elektra was slow in moving the release and gave Hickman the go ahead to self-release the title. Hickman's loyal following rallied together in support, even providing capital for the venture, and have reinforced that devotion with every release since.
In equal measure to this public admiration, Hickman's compassion has led her further into the social advocacy arena, including a visit to Romania to aid orphans. Musical side projects, like the Domestic Science Club trio and a series of introspective recordings, have followed. Over her career, Hickman has released 14 albums, made numerous national television appearances and toured with mutual admirers Nanci Griffith and Dan Fogelberg.
In 1994, Hickman moved to Austin where she remains a revered community treasure for her music and charitable work. "I love everything about Texas. Austin just seemed like a really spiritual, musical, family oriented type of place."
hickman from Madeline Maxwell on Vimeo.
"Austin just seemed like a really spiritual, musical, family-oriented type of place."