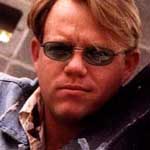 Singing and songwriting come natural to native Texas country singer Pat Green, whose grass roots approach to his music career has made him a Texas sensation. Born in San Antonio, raised in Waco and educated in Lubbock, he is a mainstream giant in Texas music even though he is the archetypal everyman poet of the people.
At the turn of the century, Green represents the best of a new breed of Texas songsmiths. A genuinely affable character, his achievements include three Grammy nominations, a top Billboard single, a gold album, sold out arena shows and the support of a young adult fan base that claims him as one of their own. That attachment was first cultivated in the West Texas honky-tonks frequented by the former Texas Tech student, who released his earliest work in 1995, "Dancehall Dreamer," while still a Red Raider undergraduate. From the stillness of the plains, Green carved out ballads whose flesh barely hung to the bone, and a catalog of unbridled rabble rousers to boot. Quick as a flash, the cult of Pat Green was off and running, spurred on by this agent of good-times.
Green built his fan base the old fashioned way: by traveling throughout the state on a small budget, watching audiences expand profusely on the college circuit. "I can't believe we played Gruene Hall, and the first time we played it, it sold out," Green recalls. "It felt great." His work is endearing to fans who find clemency in the telling; whose lives of love, laughter and redemption mirror the tales that emit from a man whose appearance is as natural as the neighbor's next door. "All I do is wake up in the morning and write what I write, and I get up onstage and sing what I sing, and entertain how I entertain," Green allows. But Green's musical instincts are much more complex below the surface. His populist appeal led to 300,000-plus indie album sales before Green side-stepped Nashville to ink a deal with Universal/Republic Records in 2000, keeping his address in the state because "Texas is home and it always will be home."
Each of Green's eight titles are distinctive works that build on the narrative tradition perfected by Willie Nelson and Jerry Jeff Walker. Like Nelson and Walker, who've both recorded duets with their junior colleague, Green possesses the kind of charisma that has stamina. Devotees find refuge in "Lucky Ones" and "Wave on Wave," two discs which have revitalized interest in Texas country music across the nation. The single, "Wave on Wave," went gold and climbed to the top five in Billboard's country chart, leading to two sold out performances at the Houston Livestock Show and Rodeo in the Astrodome. Green's comment to his proud father on the achievement: "Dad, it's exactly as cool as you think it would be."
green from Madeline Maxwell on Vimeo.
"All I do is wake up in the morning and write what I write, and I get up onstage and sing what I sing and entertain how I entertain."