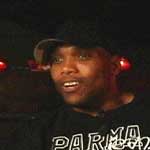 Overlord is the most widely known Austin hip-hop artist of all time.
A singer, songwriter and activist, much of his work relates the struggles of the disadvantaged and vulnerable. Overlord, whose given name is Donnell Robinson, believes that music carries a fundamental message of hope, and the Missouri native's raps spread this faith with their emphasis on social harmony.
"I don't ever want to be someone who is out there perpetuating a bad problem," Overlord said of his lyrics. "I want to be a part of something that elevates people to a higher level, ya know?" Overlord was one of the first Central Texas rappers to utilize live musicians on stage, and is renowned for the way he functions as a conduit between the hip-hop scene and live music community as a whole. His role as an urban beat patriarch is one he takes seriously; likewise, his reputation as a music liaison has won him many marks of distinction.
For eight years and counting, the self-professed "thinking man's rapper" has carried home Austin Music Awards best hip-hop artist honors and was the recipient of the inaugural Austin Music Foundation Incubator Program's recording grant. But he takes it all in stride.
Overlord's passion for music interrupted what was a promising college career. In 1987 he broke the news to his parents that he would pursue a music career and leave his textbooks behind. His decision was supported by his family because, as he described it, "my family encouraged the arts." Overlord decided on Austin as his new home based on its reputation. This was a curious choice, some friends thought, since Austin has never been a hotbed of hip-hop activity. In fact, "it (Austin) didn't have a hip-hop scene when I started here," Overlord said. Conversely, the city did have players galore—guitarists, bass players, drummers and keyboardists—who were interested in performing to the progressive rhythm of Overlord's rhymes.
Dubbed the Godfather of "ATX" hip-hop, the robust six foot five artist has released six independent CD's and received glowing revues. Billboard magazine recognizes him as "one of Austin, Texas' best unsigned acts," but it is Overlord's positive influence on his musical peers which brings the pioneer of Texas hip-hop his greatest satisfaction. As he reminds, "You have to say something that is going to definitely make a difference to someone."
overlord from Madeline Maxwell on Vimeo.
"I want to be a part of something that elevates people to a higher level, ya know?"