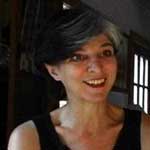 Marcia Ball honed her powerful singing and deft, rollicking keyboard chops while growing up in the small town of Vinton, Louisiana, on the Texas border. After attending Louisiana State University, she hit Austin in the early 1970's like a hurricane, just as the Texas capital's progressive country movement was growing. Ball was an important and popular figure on the Austin scene, first as the leader of the crowd favorite Freda & the Firedogs, and then as a solo artist recording for the Capitol label. Her debut, 1978's "Circuit Queen," spread her name further than any Austin female artist since Janis Joplin.  By the early 1980s, Ball was the country's greatest champion of Gulf Coast rhythm & blues, and she's never looked back.
Ball has appeared at virtually every major festival in North America and Europe where she's received glowing reviews. From her 1998 W.C. Handy Blues Award for "Contemporary Female Vocalist of the Year" forward, she has earned nods practically every year as the world's best "Blues Instrumentalist-Keyboards." In 1999, Ball and her band were featured on the program "In Performance at The White House" along with B.B. King and Della Reese, and by the early 2000s landed on Alligator Records. Full-tilt or subtle as the moment demands, she is an unabashed powerhouse on the keyboard and is at home playing roadhouse rock, zydeco, jump-blues, second line syncopation, Cajun, R&B, deep soul, and ballads.
Her earliest memories of the Austin music scene and her musical identity speaks volumes for her tenacity. "There wasn't very many females doing piano, there wasn't many females doing much in music--there were only a few of us. I'm a piano player in a guitar town. My music is now more than ever Louisiana oriented . . . while I try to make it as universal as I can, in a way it is fairly Louisiana centric or Gulf Coast centric. At least that much ya know."
Ball releases "Presumed Innocent," and "So Many Rivers" rode Billboard magazine's Blues Charts for months and earned 2002 and 2004 Handy Awards for album of the year. "There's plenty more, there's plenty more people I want to play with and plenty more I want to do," Ball states, "and there's a lot to do."
ball from Madeline Maxwell on Vimeo.