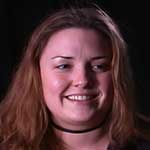 The contribution of women in Texas popular music has been immeasurable from the late 1940s era of Big Mama Thornton through the psychedelic dawn of Janis Joplin to Norah Jones modern mainstream success. Austin singer Liz Morphis completely identifies with this tradition and is steadily building a distinctive reputation all her own.
Using jazz and R&B vocal techniques, her singing style offers a fresh take on conventional music forms. Sometimes primitive and at other times sweet, Morphis's voice has already made an indelible mark in Austin and drawn the attention of music arbiters such as Clifford Antone. "I go to him for a lot of peace of mind," Morphis explains. "As far as the blues go, I'm still learning stuff left and right."
The East Texas native possesses an extraordinary vocal range and includes elements of jazz, R&B, soul and country in an eclectic mix of rock 'n roll. Morphis was born and raised in north-east Louisiana, and in the late 1990s found her way to Austin. Her first act was the Alternators, a roadhouse blues band that gave Morphis the means to trace her style back to the Texas roots. "When it comes to Texas blues, I think 'power' because it's just ripe and electric," states Morphis.
After the Alternators disbanded, the band Morphis came into being. At house parties and in clubs like 311, Friends, and Momo's, the group's selection of cover songs often drew swing dancers galore, but whenever possible, they'd sneak more autonomous blues forms into the set. "When it's free for people to walk in off the street and sit down and listen to you, I like that," Morphis said. "Being in sync with the band and the music, and uh, like having the music come out of us and go together and sound so good, it's an accomplishment."
Morphis, a middle-type alto, retains a sense of optimism as she continues to work on her delivery. Not one to erase musical boundaries just for the sake of it, she captures the spirit of New Texas on blues standards such as 'Is You Is, Or Is You Ain't,' and 'Gee Baby, Ain't I Good to You.'  Engrossed in music, it is clear that Morphis won't shy away from the rocky road traveled by Texas songstresses who she can rightfully claim as soul sisters.
morphis from Madeline Maxwell on Vimeo.
"When it's free for people to walk in off the street and sit down and listen to you, I like that"