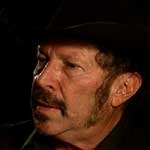 Kinky Friedman has risen to almost mythological status in Texas. The Renaissance man of music, letters and politics is a man like no other. As a master satirical song stylist he is beyond compare with a catalog that includes country ditties about the Holocaust, 'Ride 'Em Jewboy' and anti-Semitism, 'They Ain't Making Jews like Jesus Anymore.' Called outrageous and irreverent, Friedman may yet have found his greatest calling as he runs for the office of Governor of Texas in 2006.
The humorist, performer, mystery writer and journalist grew up on a ranch as the son of a University of Texas professor. While a student at UT, his band, King Arthur & the Carrots complimented his psychology studies. After graduation, Friedman served in the Peace Corps and soon after started the group, Kinky Friedman & the Texas Jewboys.
Throughout the 1970s, Friedman entertained audiences with his unique brand of country music since and crossed the stage of the Grand Ole Opry, recorded for a corporate giant (ABC), and performed with admirers like Bob Dylan and Eric Clapton. Friedman and the Jewboys were at their most notorious in the early during the Cosmic Cowboy era, but the lyrics of Friedman's tunes, though satirical in content, reflected on serious issues. As he recalls, "the Jew Boys, we were a country band with a social conscious, which was a tragic mistake." Still, their legacy was paid homage by a tribute album in 1999, with music titans Willie Nelson, Tom Waits, and Lyle Lovett covering Friedman's compositions on "Pearls in the Snow: The Songs of Kinky Friedman."
Friedman no longer spends his time performing but rather tours the country as a much sought after speaker whose fame is due mostly to his critically praised mystery novels. He has penned over two dozen outrageous titles including "Roadkill," "Kill Two Birds & Get Stoned" and "Love Song of J. Edgar Hoover."
In 2005, Friedman announced his intentions to run as an independent candidate in the 2006 elections for Governor of Texas, though he concedes, "I'm not a politician; I'm an un-politician. I'm an amateur. If you can't inspire people to get involved in things and do things, then you will be a very shi**y governor, OK? Which is, we've had a long line of governors that just didn't care. So I mean, I'm gonna be in, gonna fight against the wussification of Texas. I'm very against political correctness and will be very unconventional in the campaign and in the administration."
friedman from Madeline Maxwell on Vimeo.
"So the Jewboys, we were a country band with a social conscience, which was a tragic mistake."