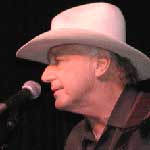 Jerry Jeff Walker moved to Austin in 1971 and in the process helped reinvent a sleepy college/state capital town into a robust, music hotbed. Today, he is recognized as the songwriter's songwriter, an icon for independent artists and a guiding force for two generations of Texas roadhouse pickers. Walker's influence on Texas music is clearly recognizable in the work of admirers ranging from Pat Green to Garth Brooks, and throughout the world his name is synonymous with the Lone Star State.
While Walker's shadow is long, the success of the progressive country-rocker can be traced back to his native New York and the loving care of a grandmother who encouraged him, at age thirteen, to use the guitar as a means of developing self discipline. On the folk circuit of Greenwich Village, Walker learned how to spin an impromptu verse with a biographical yarn, borrowing from other artist's catalogs to fill a chorus. Over the decades, he has continued to pull inspiration from his surroundings and fleshed out material that has stood the test of time, including one of his earliest compositions, the beautifully poignant 'Mr. Bojangles' (covered by everyone from Bob Dylan to Sammy Davis, Jr.) and the spirit-raising 'Sangria Wine.' "I'm trying to write something that tells my story; write some song that're good and you understand; at least they'll sing my memories," tells Walker.
From his legendary live recording in 1973, "Viva Terlingua," through the present day, Walker has enjoyed the companionship of exceptional road and studio sidekicks, named in turn the Lost Gonzo Band, the Lost Sea and Gonzo Compadres. Thirty albums have been widely distributed over the years, each release adding further weight to the Gypsy Songman's reputation as a solitary troubadour with a Midas touch. Despite performing for several presidents and collecting awards by the bushel, Walker chose to distance himself from the mainstream industry in 1986 to form his independent label, Tried & True Music.
Along his journey, Walker has given his time generously and raised awareness for a myriad of causes. In this spirit, he and wife Susan have started the Tried & True Foundation with the goal of founding a post-secondary, vocational school for aspiring artists "so that kids don't get ripped off in the music business."
Walker who's lived with the label, "country rocker," which he claims was simply a result of strapping on an electric guitar while singing of outlaws, hard living and heartache, has nothing left to prove as an artist.  He is that rare being who lives life according to his own rules and ends up on top, enjoying to the last what he playfully describes his "portable occupation."