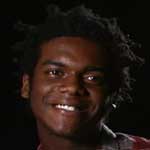 Of the younger generation of Texas blues guitarists, it can be argued that Gary Clark, Jr. best carries the torch that's been passed down from T-Bone Walker thru Stevie Ray Vaughan. Clark, barely in his 20s, is already a bluesman of the highest caliber. Born in Austin in 1984, he began playing the guitar at the age of twelve. "There is a long line of music in my family, not necessarily professional," Clark said. "Everyone in my family is always singing, my house was never quiet growing up."
Clark joined the ranks of live blues performers at a very early age. "My parents were really supportive," Clark said. He has come a long way since Christmas of 1996, when his parents reluctantly bought him his first guitar despite the fact that he had shown little interest in the instrument.  Today, hearing his music stirs deep emotion and demonstrates his parent's investment was a wise one.
Although playing the blues in a hip hop age isn't very fashionable, Clark doesn't see his music as anachronistic. Rather, he's determined to do things his way and has been trading chops on stage since the age of fifteen, when his parents chaperoned his neighbor and soulmate Eve Monsees and himself to gigs around Austin. "When I was a lot younger, people didn't take me seriously, like fifteen and walking around with a guitar trying to play where it was clubs that were 21 and up… a lot of people weren't having it," Clark recalls of his early performances. "People just don't take young people too seriously."
Since his start, he has realized his potential and enjoyed jamming with blues greats from Bobby Blue Bland to Jimmie Vaughan. "Going on the road with Jimmie Vaughan, I learned a lot through that," Clark said.
Incorporating soul, jazz and rock influences, Clark has received accolades from the Houston Blues Society, the City of Austin and the Austin Music Awards, but he takes it all in stride. "My Dad called me up and said City Council is having a meeting, and they want you to come down and play, and the Mayor is going to proclaim something," Clark said of receiving the honor of Gary Clark, Jr. Day in Austin. Clark's guitar playing and distinct singing and songwriting style show his great promise and it seems certain that he will continue to redefine the greatest traditions of American roots music.
clark gary from Madeline Maxwell on Vimeo.
"Going on the road with Jimmie Vaughan, I learned a lot through that."