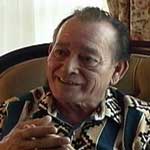 Few American artists are as highly regarded as this San Antonio accordionist whose name is synonymous with Tejano music. The legendary Flaco Jimenez has traversed the planet, garnering praise at every turn from heads of state and migrant workers alike. A beloved ambassador of Texas border music, Jimenez has transformed the popular music industry while serving as a cultural conduit. From the 1960s to the present day, his stylings have helped establish a musical genre while inspiring a wide range of artists, from Bob Dylan to Buck Owens, and the Clash to the Rolling Stones.      Jimenez's genius can be attributed to his genes as music has been a family vocation for nearly a century. He began performing onstage with his father, the legendary Conjunto accordionist, Santiago Jimenez, at age seven. By the age of 15, Jimenez had released his first album with the band, Los Caporales. "I was self taught (the accordion) by observing my Dad play," Jimenez recalls.
The Grammy winning accordionist, widely recognized as the master of his craft and a pioneer of Tejano and Conjunto music, perfected his style by infusing Mexican-American traditional folk melodies with electric blues guitar, country, and the saxophone. Underlying this musical fusion was a fierce, talking accordion played by a humble, spiritual man. Jimenez describes his playing as simple "Conjunto. It's a music, a regional music of San Antonio. It's like a hitch of Conjunto, a Tex-Mex kind of music."
To date, Jimenez has won five Grammies for his musical performances amid countless awards and honors. Yet it is his modesty which stands out, even when he is cajoled into name-dropping artists he's performed with: "Santana, Los Lobos, the Rolling Stones, Dwight Yoakam, to name a few. It's been a part of my life, of different experiences . . . But it's been like a dream come true." One of his Grammies that he won was for his collaboration with Freddy Fender's Jimenez's latest CD, "Squeeze Box King," is a combination of songs sung in Spanish, English and Dutch. He reflects, "Why not blend the accordion with the modern musics, which was rock and roll, and blues, or whatever it took to make it more progressive? It's a wider audience now."
Jimenez's legacy, from his work with the Texas Tornadoes, to an exhibit on his life and work at the Smithsonian Museum, to his induction into the National Hispanic Hall of Fame, is only partly written. At the dawn of a new century, the man's shadow grows ever larger.
jimenez from Madeline Maxwell on Vimeo.