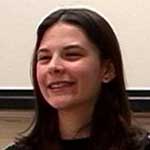 Developing a new definition of "girl power" is at the heart of Eve Monsees work. Encouraged by her parents to pick up the guitar, the self taught player and songwriter realized the power of artists as social engineers from an early age. From teen hood, Monsees dismissed artificial pop music in favor of the dynamic, personal nature of the blues. A traditional purist by the age of fifteen, she became a regular on Austin club stages, sitting in on blues jams and essentially stealing the spotlight from elder veterans.
While her classmates concerned themselves with curfews and corsages, Monsees, along with schoolmate Gary Clark, Jr., managed to incorporate the night life into her school curriculum. The neighbor's routine underscored their commitment to the music:
school, homework, dinner, transportation downtown, a few turns on stage, then return home and catch a few hours of sleep. "We were the kids down there, playing along with people who'd been playing for over 20 or 30 years," she recalls.
Their sincere appreciation and respect for the music led Austin blues authority Clifford Antone to introduce the pair to the Chicago masters including Hubert Sumlin, Pinetop Perkins, and Lazy Lester, and Monsees recognizes she benefited from the indulgence. "They were very supportive. They could have easily, eh, blown us off, but they would take us aside at times and show us little things." Once out of high school, Monsees fully immersed herself in roots music research, taking a clerks position at Antone's Record Store. There she met drummer and blues specialist Mike Buck. Their act, Eve and the Exiles, was soon formed and in 2004 they released their first recording to enthusiastic reviews. Monsees has developed a guitar style with a unique human touch, in turn primitive and progressive, framed perfectly by the Exiles.
From her point of view, being a young, white, female blues guitarist has not been all that challenging. She finds receptive audiences at every turn. As Monsees states, "I don't feel like I've had a lot of obstacles because I'm a female artist, I mean, I fell like I am treated as a musician … not being 21, that's been an issue."
monsees from Madeline Maxwell on Vimeo.
"We were the kids down there, playing along with people who'd been playing for over 20 or 30 years."