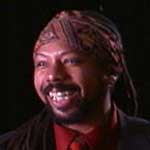 Bevis Griffin, a pioneer in Austin music history, is one of those Texas musical treasures which age like fine wine. After a long, inspired career as the frontman for acts such as Papa Mali & the Instigators, the Bats, and Banzai Kik, Griffin recorded perhaps his best work to date in 2005—including the titles 'Balloon Head' and 'Debtor's Prison'—with longtime creative partner and guitarist Chris Bailey. Griffin's trek began as a drummer in Wichita Falls. While still in his teens, the California native was drawn to Austin in the early 1970s and became, reportedly, Austin's earliest black pop musician. Griffin not only found favor in the burgeoning blues circle but soon became the town's original glitter rocker.
Known primarily as a drummer in the Skyscrapers and the Shades, Griffin emerged as a charismatic stage performer while a lead vocalist in the 1980s. He was greatly influenced by funk, punk and glam and juggled these styles with aplomb. As he recalls "I know for a fact that I was one of the first glam rock artists in Austin, probably one of the first in Texas." Griffin's extravagant dress and energetic shows helped create his reputation in the music scene, but admits the combination of substance of style was one way of "creating such a persona that was actually going to attract a lot of press and a lot of female attention, ya know? The female attention was really my whole goal behind the flamboyance. Stylistically my whole approach to it (music) was a mix between Motley Crew and Jimi Hendrix."
Over the years, Griffin has toned down his onstage persona and has chosen to work meticulously in studios from coast to coast crafting his new sound. Griffin, who has constantly reinvented himself and his music to ever more progressive styles, earned wide respect from his peers in the industry as one of the founders of the Black Rock Coalition. This coalition was created as an outlet for young artists to learn from older, more experienced people in the field, and Griffin, while residing in New York, helped many a young artist because "they just didn't have a direct circuit to plug into." Without a doubt, Griffin has traveled a rough road but his singular journey in music has left us a trail that is to be admired.
griffin from Madeline Maxwell on Vimeo.
"I know for a fact that I was one of the first glam rock artists in Austin—probably one of the first in Texas."